Background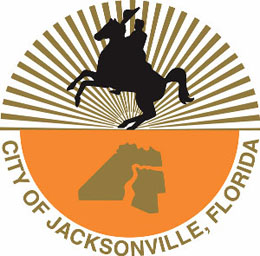 Jacksonville (pop. 836,507) is the largest city in populous Florida, and its curbside recycling program has evolved accordingly with its growth. Accepted recyclables recently expanded to included plastics 3 through 7, as well as waxed paper cartons (for items like milk, juice, soup, creamer and broths). Depending on the contractor and area within the city limits, residents are provided a commingled blue bin or a rolling blue cart with a yellow lid. Regardless of the receptacle, all Jacksonvillians can recycle the same materials.
Materials recycled
Paper
Including mailers and junk mail, office paper, newspapers and inserts, magazines, catalogs, paperback books, phonebooks, shredded paper (placed in a secured brown paper bag), brown paper bags, waxed paper cartons, paperboard and corrugated cardboard (flattened and cut into 2'x3′ pieces).
Plastics
All plastics labeled #1 through #7 (this includes Styrofoam products and plastic bags)
Metals
Aluminum cans, steel and tin food and drink cans, empty aerosol cans and aluminum baking tins are accepted.
Glass
Glass bottles and jars (clear, brown and green) are accepted. Lids and caps must be removed and placed in the garbage.
Frequency
Recycling is collected on the same day as trash and yard waste. Bins or carts must be placed curbside no earlier than 5 p.m. the evening before pick-up and no later than 6 a.m. day of pick-up. A collection schedule (by street name) is available
online
.
Other programs
E-waste and household hazardous wastes can be dropped off at the city's HHW facility (2675 Commonwealth Ave.) Tuesdays through Saturdays, from 8 a.m. to 5 p.m. Acceptable electronic items include TVs and monitors (limit of three CRT monitors per visit), computer terminals/CPUs, keyboards, printers, scanners, stereo equipment, radios, VCRs and DVD players, camcorders, telephones, mobile phones, pagers, power tools, health and beauty appliances and small kitchen appliances. Acceptable HHW materials include paint, paint thinner, paint stripper, rechargeable batteries, photographic chemicals, thermometers, thermostats, drain cleaners, pool chemicals, full or partially full aerosol cans, antifreeze, fertilizer, acids, gun powder, ammunition, fireworks, fluorescent light bulbs and tubes (including CFLs) and 20-pound propane cylinders. Various mobile e-waste collection events are open to all Duval County residents (this includes all Jacksonville residents). An updated schedule can be found
online
. Yard waste is also collected at the curb on the same day as recycling and refuse. Acceptable organics include grass clippings and leaves (sealed in cans or plastic bags no heavier than 40 pounds), shrub trimmings, tree limbs and palm fronds. Limbs must be 5 feet or shorter in length and no thicker than 6 inches. Stack limbs in a pile next to the yard waste collection bin.
More information
Visit the
City of Jacksonville Solid Waste Collection website
for more recycling program info.