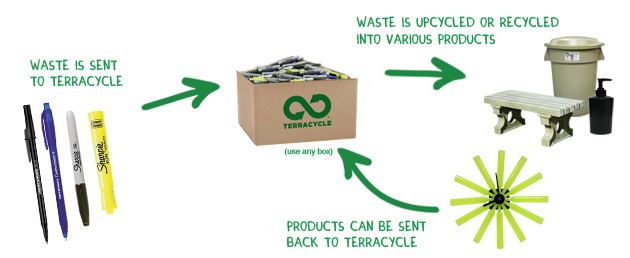 Have you ever wondered how you could recycle a used pen or marker? Wonder no more, eco-friendly innovator. TerraCycle comes to the rescue (
again
). TerraCycle's awesome Writing Instruments Brigade takes used writing instruments and turns them into useful products. Sanford Brands, a division of
Newell Rubbermaid
, has partnered with TerraCycle to give these pens and markers a chance to be something more. You send TerraCycle your used pen, mechanical pencil or marker and something useful is made out of it. The goal here is simple: to reduce the amount of writing instruments being sent to landfills and, instead, give those materials a second life as an upcycled product. Participating in TerraCycle's
Writing Instruments Brigade
is free. There are no signup or participation fees, and shipping is covered by the program. Once you have joined the Writing Instrument Brigade, simply follow the steps below to receive TerraCycle points:
Collect enough writing instruments to fill up a box or bag (approved waste is listed below). Remember to reuse a shipping box or bag and use eco-friendly padding. To receive a TerraCycle point donation, you must ship at least 7 pounds.
Download a prepaid shipping label from terracycle.com. To acquire a prepaid label, simply access your TerraCycle account online, and click "SHIP US YOUR WASTE." You can print them out yourself or request that TerraCycle send the label.
Ship the box to TerraCycle by affixing the prepaid postage label and dropping it off at a UPS location.
Writing Instrument Brigade accepted waste: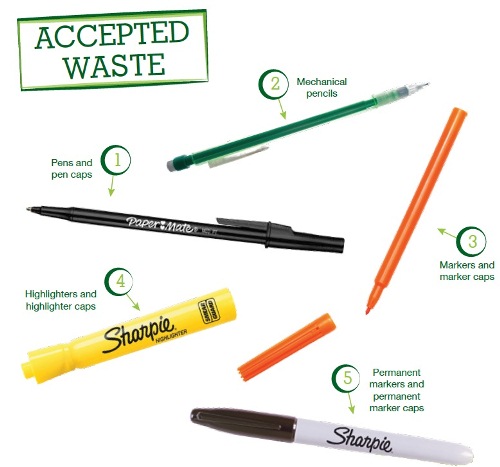 Pens and pen caps
Mechanical pencils
Markers and marker caps
Permanent markets and permanent marker caps
With more than 30 million people collecting waste in 20+ countries, TerraCycle has diverted billions of units of waste and created more than 1,500 different products. You can find these products at stores like Walmart, Whole Foods and Home Depot, among others. For more information about TerraCycle, visit
terracycle.com
.