The first
Earth Day
led to the creation of the U.S. Environmental Protection Agency and the passage of the Clean Air, Clean Water and Endangered Species Acts. The ripple effect of Earth Day can be seen in countless other community programs that help the local people and the environment. Such a program was created in New York City.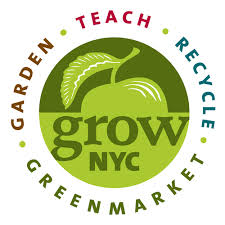 Originally named the Council on the Environment of New York City,
GrowNYC
is now a "hands-on non-profit which improves New York City's quality of life through environmental programs that transform communities block by block and empower all New Yorkers to secure a clean and healthy environment for future generations." Over the last 40 years, GrowNYC has worked to become engaged with New York City and its people. The organization operates the world famous Union Square Greenmarket and 53 other local farmers markets, builds community gardens, teaches young people about the environment, improves recycling awareness and much more. Since 2007, GrowNYC has been instrumental in collecting more than 2 million pounds of textiles through its clothing and textile recycling collections. Contributions to the program are both free and tax deductible.
What GrowNYC accepts: 
Clean and dry clothing, shoes, bedding, linens, hats, handbags, belts, fabric scraps (36" x 36" or larger) and other textiles.
What GrowNYC does not accept: 
Rugs, carpeting or commercial waste. After the textiles are received, they are sorted into different categories, including usable clothing, cotton scrap, cotton-blend scrap and synthetics. These materials are then sold for reuse as clothing, linens and so on, or sold to recycling markets that turn materials into rags, fiber for car door panels or insulation. For more information and a list of New York City Greenmarket drop-off locations, visit
grownyc.org/grownycs-clothing-textile-recycling-collections
.