In April 2010, Target celebrated Earth Month in a big way: The nationwide retailer introduced recycling stations in all of its 1,740 stores. Target is a company with a history of giving and of concern for the environment. For example, its
garment-hanger recycling program
has saved millions of plastic and metal hangers from going into landfills. The introduction of companywide recycling stations marks the first time recycling services had been available to Target's customers. It is another way Target is trying to reach out and help its local communities.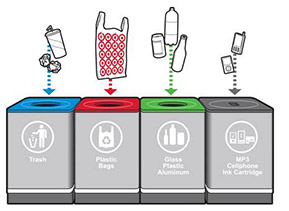 These recycling kiosks give Target customers an easy way to recycle cans, glass, plastic bottles, plastic bags, MP3 players, ink cartridges and cell phones right in their local store. The goal of the program is to extend the company's recycling efforts, and so far, the program has kept thousands of tons of recycled materials from landfills. In 2011, Target collected and recycled more than 1,000 tons of plastic, glass and aluminum bottles and cans; 7,000+ tons of shrink-wrap and plastic bags; and more than 7 million pounds of electronics. Target's recycling program ends up picking up the slack in many areas that either don't have curbside recycling at all or have a deficiency in their municipal recycling program. For example, I was recently in Leawood, KS, visiting family. Leawood residents have the envied (or so I thought) single-stream recycling program, which means they can put all of their recyclables together in a big bin and the recycling company sorts it after pick-up. The downside to their program is that it does not accept glass. Leawood residents cannot put glass out to be collected curbside at all, so their Target down the street, which does accept glass for recycling, keeps a lot of that material out of their local landfills.
To find out more about Target's recycling programs, visit target.com. To find a Target location nearest you, visit our recycling location search.