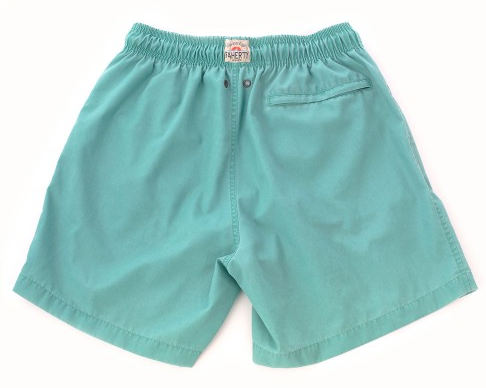 Many popular clothing companies such as
Nike
and
PUMA
 are jumping on the sustainability bandwagon by taking recycled items and recreating them.
Faherty Brand
has done the same with popular summer wear, so consumers can feel eco-friendly by spending time in the sun wearing fabric made of recycled polyester from plastic bottles. Faherty Brand has introduced its sea green Beacon Trunks this summer. These trunks, which mix a touch of cotton with the recycled polyester for a comfortable feel, come with other features such as an elastic waistband, a back pocket to hold valuables, a recycled cotton-and-linen drawstring and much more to make them a desirable choice for swimsuit season. Created by twin brothers, the Faherty brand is dedicated to crafting environmentally friendly clothing from premium materials. The inspiration for the clothing brand is the brothers' passion for summers at the beach, whether in the water or on the sand. The brand has created a reputation for its high-quality summer styles, with its swimwear being featured in well-known publications such as
Vogue
,
The New York Times 
and
Esquire
. The price of the trunks is $135, which includes tax and free shipping. Every Faherty Brand item comes with a standard quality guarantee. A portion of the sale of these trunks, and all other Faherty Brand produces, goes toward helping numerous beach communities recover from Hurricane Sandy.
To purchase the Beacon Trunks and receive more information, visit Faherty Brand's website.