Crafting urban outdoor performance apparel, Portland-based
Nau
blends premium, eco-friendly fabrics to cater to both men and women. With Nau, sustainable fashion means timeless colors, smart design, earth-friendly materials and simple care. Nau pioneers the trilogy of beauty, performance and sustainability by creating intuitive silhouettes that are built not only to move, but to also exceed the intended wear of consumers. Nau's four-season product line looks good on city streets while also functioning well on rugged terrain.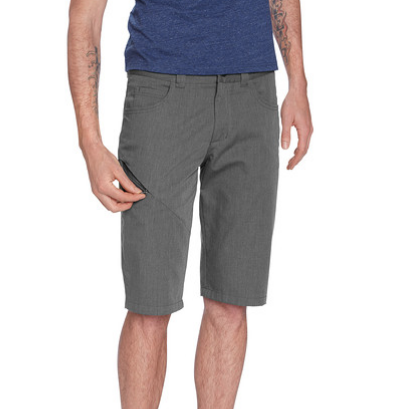 This summer, Nau introduces the durable 
Motil short
. This piece of clothing is not only comfortable, but is also crafted of quick-dry fabric made from 60% organic cotton and 40% recycled polyester. Nau's special blend of polyester consists of pre-consumer textile waste and post-consumer PET bottles. This innovative fiber lessens Nau's dependence on petroleum products, keep excess waste from landfills, reduces the company's carbon footprint and, most importantly, creates a long-lasting garment. The Motil short's cotton content is organically grown cotton, eschewing pesticides, herbicides, synthetic fertilizers or defoliants during development. According to Nau, 9.4 billion pounds of pesticides and synthetic fertilizers are used annually in the U.S. alone. This apparently means one-third of a pound of fertilizers are used to grow 1 pound of cotton. These staggering numbers lead researchers to believe why there is such irreparable damage to our soil and air. Nau hopes its contribution of organic cotton use will make a positive impact on the environment. Maintaining the
triple bottom of line
of people, planet and profit, Nau designs its products in an effort to meet true sustainable expectations. In addition to using renewable fibers, Nau chooses to donate 2% of every sale to one of its valued organizations. Nau's Partners for Change consist of institutes working toward providing people with sustainable energy access to delivering relief for people affected by natural disasters. Every customer has the ability to choose which organization Nau donates to, knowing he or she is contributing to a great cause. Organizations are eligible for Partners for Change if they abide by
Nau's Code of Conduct
. People wear clothes, which will not change, however, Nau believes what can change is the way they create them. From the beginning to the end of an article of clothing, Nau is looking at the bigger picture in ways to dispose of these materials after reaching the end of their life cycle. All of
Nau's fabrics
are made from recycled materials, and to stay ahead of the sustainable market, the company develops up to 35 fabrics a season. Nau shows consumers recycled materials are in fact nothing but luxury and challenges other textile makers to rethink their practices. Nau continuously evaluates and evolves its everyday practices to create a comfortable yet environmentally efficient garment. Nau acknowledges it may have a long way to go, but this brand is definitely ahead of the game. Nau is positively influencing the entire textile market and reminding consumers to think beauty, performance and sustainability.