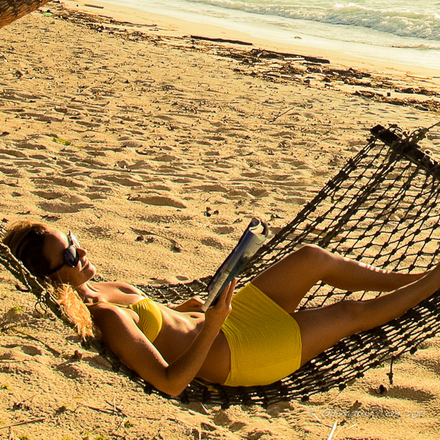 If you are a fashion-minded, active beach girl with a soft spot for the planet, check out
Odina
Swimwear. "Odina" means divine creative inspiration, and the brand's inspiration lies in "creating sustainable, highly-functional and fashionable swimwear that is locally made from recycled and reclaimed fabrics." The company was founded in 2010 to make swimwear for active women that wanted a sustainable, well-made swimsuit. Odina worked with surfers to get feedback on the fit of the product as well as the fabrics. A number of sustainable fabrics and a variety of recycled fibers were tested before finding the ones that meet their demands. Setting the standard in eco-swimwear:
The body of Odina's swimwear is composed primarily of nylon made from recycled plastic bottles with some lycra added so the suit will retain its shape.
The accent pieces are made from materials reclaimed from the scraps of conventional swim manufacturers.
The tags on the suits are made from organic cotton.
The fabrics and the suits are made in the U.S.
Odina's website is hosted on a server that is 100% wind powered.
Odina's hangtags are printed on recycled paper from FCS-certified sources.
As a company, Odina values performance and fashion, as it strives to be eco-conscious in its packaging, manufacturing and business decisions. "
Low impact, high fashion."
For more information, visit
odinasurf.com
.