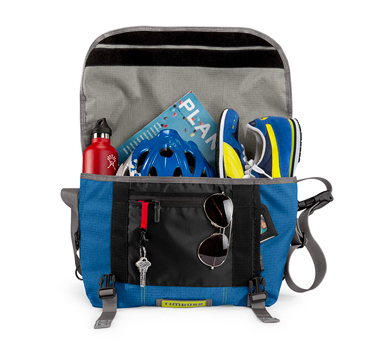 Founded in 1989 by Rob Honeycutt,
Timbuk2
started the revolutionized the popularity of the messenger bag. This San Francisco-based bag maker has since stepped up its game by introducing its 
Full Cycle collection
engineered from recycled plastic materials. These one-of-a-kind products are changing the way consumers think about their everyday bag. Timbuk2 considers the classic messenger bag to be the heart and soul of the company. However, the Full Cycle line does not stop there, and branches out with yoga totes and sleeves for iPads and other tablets. Each item in the Full Cycle line is constructed using 100% PET fabric, webbing and recycled materials. Even the buckles are made from post-industrial acetal and officially approved by
GRS (Global Recycle Standard)
. Using recycled materials allows Timbuk2 to save energy and water while also reducing air pollution. Timbuk2 customizes bags to fit all of its customers' demands — they are built to withstand whatever kind of mischievous behavior one might get into. The company's 
lifetime guarantee
stands behind the quality and mastery of all of its products. In fact, Tikmbuk2 bags are not uncommon to outlast relationships, so when customers are ready to break up with their bag, Timbuk2 encourages sending their old items back. In return, Timbuk2 recycles these used items and gives 20% off to customers on their next purchase. Making items that are built to last a lifetime, Timbuk2 is setting a new standard for consumer expectations. Timbuk2 is one of many companies stepping toward a recyclable future and challenging customers to follow its lead.
For more information, visit timbuk2.com.