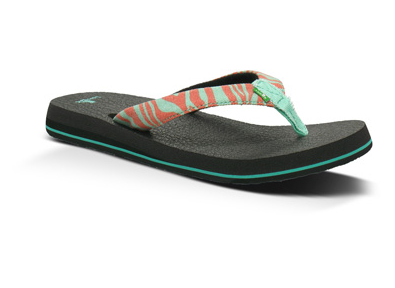 There is a second life awaiting old yoga mats thanks to
Sanuk
, a California-based footwear company that recycles spent mats into a line of flip-flops.
Yoga Mat sandals
 for women take the squishy, non-slip material and put it to good use as stylish footwear. The line contains 15 different styles, including flats and wedges. While most of the soles are black, the fabric that comes over the top of the foot is available in a rainbow of colors and patterns. Sandals are available on the company's website as well as at
select retailers
. Prices range from $30 to $44. A Sanuk representative claims the sandals are more comfortable than the average flip-flop and more durable than anything else on the market. Anyone who has done yoga knows how nice that material feels on the feet, and how good it is at helping even novices keep their Downward Dog from slipping into a pose that looks more like Dog on its Belly. Experts in at least one flip-flop-loving field agree that Sanuk is on to something. In 2010, Sanuk's Yoga Mat sandals won the
Surf Industry Manufacturers Association's Award
 for Footwear Product of the Year. Pick up a pair now that summer is here. They'll keep your feet feeling Zen no matter where the warm weather takes you.