Cromley Lofts
began as a warehouse in Alexandria, VA, in 1910, serving its founder, William Peck's private business interests of retail groceries, wood and coal and an active railroad corridor. As times have changed, so has this property's value and purpose. Alexandria builder and developer William Cromley purchased this asset in 2004 with a higher expectation in mind by developing a sustainable residential condominium. Occupying 1210 Queen St. in Alexandria, Cromley Lofts is an eight-residence condominium located near historic King Street. Offering one- and two-bedroom floor plans, Cromley considered the environment through every step of redevelopment and construction. During the building's refurbishing period, many materials were recycled and reused to reduce landfill waste. Other building materials used for this project are considered "rapid renewable resources" that can typically be harvested in 10 years or less. As a result, each unit is complete with custom-designed bamboo kitchen cabinetry and natural cork flooring. Upon its build-out Cromley Lofts earned
LEED
Gold certification. Created by the U.S. Green Building Council in 2000, this certification promotes the delivery of energy and water efficiency in the built environment. Recognized across the globe, LEED is a cutting-edge program supporting its leaders while creating high-performance buildings and saving money.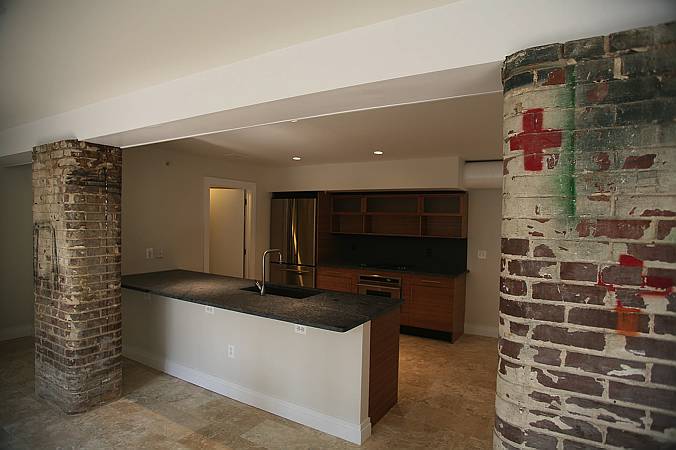 According to the USGBC, LEED-certified buildings cost less to operate, reduce energy consumption and cut water bills by as much as 40%. Without a doubt, LEED certification increases property value as well. Cromley Lofts values two major aspects: sustainability and health and quality of life. To achieve these goals, each unit is equipped with plumbing fixtures designed to reduce water consumption by 30%. Units are also designed to reduce energy consumption by 20% by doubling code required R-values of insulation, installing double-paned argon-filled windows and doors and utilizing furnaces with high 14 SEER ratings. Cromley Lofts utilizes the least toxic materials and techniques available. Designed to maximize natural lighting and indoor air quality, each of the building's spaces has a direct view of the outdoors. In addition, Cromley Lofts holds a landscaped green space and a vegetated green roof. According to Cromley Lofts, this custom roof reduces ambient air temperatures and filters storm water runoff while harmonizing the site and adjacent park. Although Cromley Lofts is at the top of the sustainable infrastructure game, residents do pay top dollar for these features. Due to limited spacing and prime location, spaces range from $535,000 to $645,000. With the housing market on the rise, many consumers are looking at much more than just dollar signs. Cromley Lofts challenges other property owners in northern Virginia to meet its new golden sustainability standard.
For more information on Cromley Lofts, please visit the building's website.