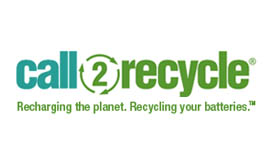 With the many gadgets and technology upgrades expected as gifts for Father's Day, tech-loving dads everywhere may be wondering what to do with the old devices that become obsolete. That's why Call2Recycle, the only no-cost rechargeable battery and cell phone collection program in North America, is encouraging everyone to recycle the used rechargeable batteries from old devices (cell phones, digital cameras, cordless power tools, laptops, etc.) at any of its 
drop-off locations
 at community collection sites and retailers nationwide such as Best Buy (NYSE:BBY), RadioShack (NYSE:RSH), The Home Depot (NYSE:HD), Staples (NASDAQ:SPLS) and Lowe's (NYSE:LOW). Notably, a 
new survey
 by Call2Recycle, which periodically tracks Americans' attitudes and behaviors around proper product disposal and environmental responsibility, reveals that 25 percent of all men suffer from "green guilt", the knowledge that they could and should be doing more to help the environment. Many people are unaware that like newspapers and plastic, rechargeable batteries should be recycled properly. "Our research shows that more than half of us are holding on to old gadgets in junk drawers and elsewhere rather than recycling them – in part because they don't know how or where to recycle old technology," said Carl Smith, CEO and president of Call2Recycle. "Keeping electronics and used rechargeable batteries out of the waste stream is vital to the long-term sustainability of our planet." Since 1996, Call2Recycle has diverted 70 million pounds of rechargeable batteries from landfills and established a network of 30,000 public collection sites. Using rechargeable batteries is a simple step toward a greener lifestyle, and Call2Recycle offers up the following tips to assure that Dad and the rest of the family get the most life out of their new rechargeable batteries by reducing how often they need to be replaced.
Follow the charging guidelines provided by the manufacturer. Each product has specific batteries charging battery charging times prior to their initial use.
Never return a fully-charged battery to the charger for an extra boost – it actually shortens the life of the battery!
Do not leave your rechargeable battery in the charger when not charging. Continuous charging can shorten battery life.
When they no longer hold a charge and it's time to replace your battery, be sure to recycle your old one.
Call2Recycle is the nation's most comprehensive rechargeable battery and cell phone recycling solution, providing a responsible and convenient way to recycle cell phones and rechargeable batteries found in electronic products, such as laptop computers, digital cameras, cordless power tools, two-way radios, mp3 players and camcorders. There is no charge to drop-off batteries for recycling or be a collection site. For more information and to find local drop-off locations, visit 
call2recycle.org
.