When it comes to recycling, most environmentally conscious citizens think of how to separate recyclables and where to put their garbage and other materials that will go to waste. However, few think about what innovative techniques could be used to make something out of that waste. Two men in Cateura, Paraguay, used creativity and resourcefulness to make something amazing out of the landfilled materials that many residents in that region live on and rely upon. Favio Chávez, a music teacher, and Nicolás Gómez, a garbage picker and luthier, began creating instruments out of items they discovered in the landfill. After some time and help from the community, they put together an orchestra of kids using the recreated instruments, starting the life-changing recycling program known as the
Recycled Orchestra
. The Recycled Orchestra battles two important issues in the world today: waste pollution and poverty. Through refurbishing garbage and other materials in the landfill, Chávez and Gómez reduce the waste the residents of Cateura live around and recycle it into something beautiful. The duo is creating a better future for children who live in an area filled with destitution, violence and drugs. The program gives the kids a hobby to focus on, helping reduce their risk of getting involved with crime.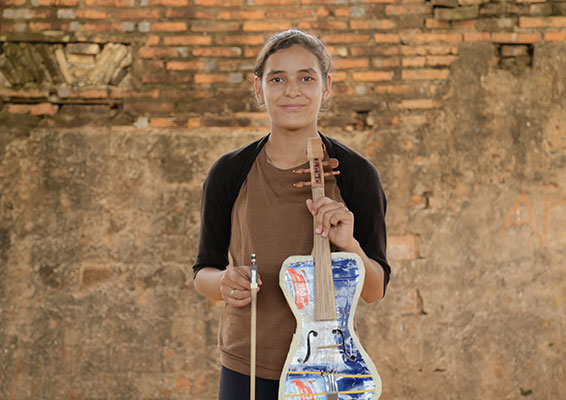 The Recycled Orchestra has changed lives in the community of Cateura, while also opening the door for the possibility of a much larger social movement. Word of the program has spread around the world, and similar programs are being organized in other communities. In fact, production of a documentary that chronicles the children, the orchestra and the transformation of both began in 2010. This documentary,
Landfill Harmonic
, will be released in January 2014, and you can view the trailer, gallery and more
here
. The project and its details can be found on
Kickstarter
, where it successfully reached its funding goal. The fundraising goal was originally set at $175,000, but about 5,000 backers raised approximately $215,000 for the project. According to the page, this may allow the
Landfill Harmonic
crew to have an extra week to film in Paraguay and let them follow the Recycled Orchestra on an international trip. The goals of the film are:
To inspire and provide hope for young audiences while motivating them to recycle;
to educate audiences about different ways to recycle;
to partner with environmental organizations;
to encourage other organizations to provide opportunities for underprivileged youth;
to motivate youth to be creative and resourceful and re-evaluate their lives; and
to bring attention to the sanitary issues in Cateura.
Although the window to help fund the film on Kickstarter has passed, there are other ways to help.
Landfill Harmonic
was produced with the help of the
Creative Visions Foundation
, a team that supports and inspires creative activists. You can donate to and volunteer for the Creative Visions Foundation
here
.
Stay up to date on the Recycled Orchestra's latest news and upcoming performances by Liking the
Landfill Harmonic
 Facebook page.