Background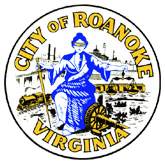 Roanoke (pop 97,469) may only be the 10th largest city in Virginia, but it is a clear leader in the state's charge toward effective curbside recycling programs. Every Roanoke resident has curbside recycling service using a two-bin system — one for bottles and cans and one for paper products. Though recyclables are collected on a weekly basis, only one bin is collected each week on a rotating schedule.
Materials recycled
Paper
All paper items go in the "paper week" bin. Accepted items item office paper, junk mail, magazines, catalogs, newspapers, chipboard, paperboard and flattened corrugated cardboard.
Plastics
All plastic items go in the "bottles and cans week" bin. Accepted items include plastic containers numbered 1 through 7 (must be rinsed).
Metals
All metal items go in the "bottles and cans week" bin. Aluminum and steel cans (must be rinsed) are accepted.
Glass
All glass items go in the "bottles and cans week" bin. Clear and colored glass bottles (must be rinsed) are accepted.
Frequency
Roanoke residents take recyclables to the curb weekly, on the same weekday as refuse collection. Bins should be placed curbside no earlier than 7 p.m. the night prior to pick-up and no later than 7 a.m. on the day of pick-up. They must be returned to property by 7 a.m. the day following pick-up. The recycling bin must be placed 3 feet from the "Big Blue" refuse cart Roanoke residents use. Roanoke uses geographic boundaries to determine the day of pick-up. I-581/US-220 and the main railway tracks divide the city into quadrants. The northwest quadrant has pick-up on Mondays, the northeast quadrant is on Tuesdays, the southeast quadrant is on Wednesdays and the southwest quadrant is on Thursdays.
Other programs
The Montgomery Regional Solid Waste Authority operates a facility (555 Authority Dr. in nearby Christiansburg) that collects household hazardous waste, electronics, appliances, furniture and other bulky items and more for recycling. Some items may incur a fee. For further information, see
mrswa.com
.
More information
Visit the
City of Roanoke Recycling Collection website
for more recycling program info.