Background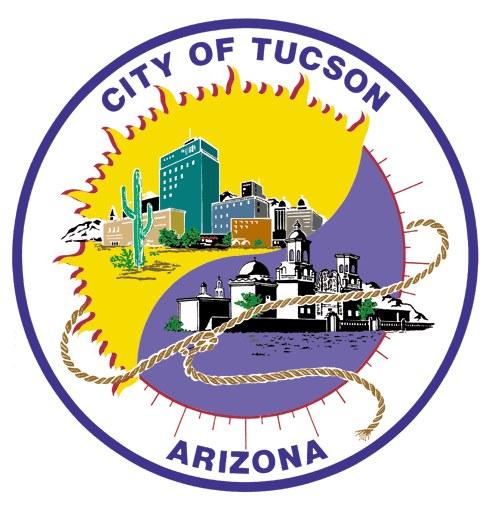 Tucson, AZ (pop. 524,295), Arizona's second-largest city, invites its residents to "Do More Blue" using a commingled 65-gallon "Blue Barrel" for its weekly curbside recycling collection program. Nicknamed "The Old Pueblo," Tucson has a rich historical background that includes a long history of green-minded residents. One of the top biking and hiking cities in the U.S., Tucson is full of outdoors enthusiasts that are passionate about the environment.
Materials recycled
Paper
Printing and writing paper, mail and copy paper, brochures, flattened corrugated cardboard, shredded paper (secured in a clear plastic bag), magazines, catalogs, newspapers, brown paper bags, notebooks, phonebooks, paperboard, molded fiberboard and paper-based drink and food cartons are accepted.
Plastics
Plastic bottles, containers and jugs numbered 1 through 7 are accepted (lids/caps OK). Rigid plastics like coolers, water cooler bottles, toys and buckets are also accepted. No Styrofoam products and no plastic bags (except when containing shredded paper).
Metals
Aluminum, tin/steel cans and containers and empty aerosol cans are accepted.
Glass
Glass bottles and jars (all colors) are accepted.
Frequency
Tucsonans take recyclables to the curb on a weekly basis on the same day as refuse collection. Barrels must be placed curbside no later than 6 a.m. on collection day, at least 3 feet from refuse cans and other obstructions and at least 15 feet below any overhanging wires or foliage. A
collection map
is available online.
Other programs
Thirteen neighborhood recycling centers dot Tucson. Any of the above-listed recyclables can be dropped off at these sites:
Joaquin Murrieta Park, northwest corner of Club View & El Rio drives

Mansfield Park, 4th Avenue one block south of Grant Road
Morris K. Udall Park, Tanque Verde Road, a quarter-mile east of Sabino Canyon Road
Miller-Golf Links Library, 9640 E. Golf Links Rd.
Golf Links Sports Park, northwest corner of Craycroft & Golf Links roads
Ward 5 Council Office, 4300 S. Park Ave.
Kennedy Park, northwest of the library, west of Mission Road, north of Ajo Way
Patrick K. Hardesty Center, northwest corner of Alvernon Way & 22nd Street
Los Reales Landfill, 5300 E. Los Reales Rd.
Booth-Fickett Magnet School, 7240 E. Calle Arturo
Jacobs Park, Fairview Avenue, south of Prince Road
Tucson Convention Center, northwest corner of Cushing Street & Granada Avenue (this location is closed until further notice
Himmel Park, north parking lot, 1st Street east of Tucson Boulevard
There are several
drop-off options
throughout Tucson for household hazardous waste items. Drop-off is free to Tucsonans with valid ID. Residents of the surrounding cities of Marana, Oro Valley and Sahuarita may use these facilities for a $5 charge. Accepted items include automotive fluids, engine oil filters, automotive batteries, rechargeable batteries (Ni-Cd, Ni-MH, Li-ion, Pb), small button batteries, lithium batteries, cleaning products, drain openers, cooking oil, mercury-containing products, fluorescent lamps, paint products, solvents, hobby chemicals, pesticides, lawn and garden products, pool chemicals, propane cylinders, computer equipment, printer cartridges, and items labeled "Acid," "Flammable," "Caustic," "Poison," "Caution," "Toxic," "Danger" or "Warning."
More information
Visit the
City of Tucson Residential Recycling website
for more recycling program info.