Guest post by Rebecca Ruvalcaba, Southern California Girl Up club president
We all know that certain happiness when it is time for the holidays. Thanksgiving comes with a plethora of food, then there are the amazing Black Friday and Cyber Monday deals and by Christmas morning you're surrounded by loved ones and presents under the tree.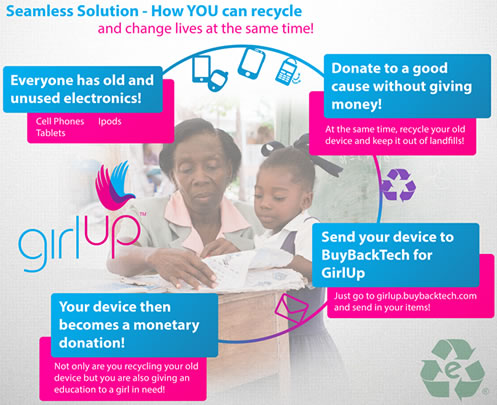 All of these days are full of unique gifts, but there is something more fulfilling yet: a day to give back. On Tuesday, December 3, 2013, this day will finally become a reality. This day is called Giving Tuesday. There are many ways to give back this holiday season, but one way is particularly easy, and at no cost to you. This Giving Tuesday, you can donate an old cell phone, tablet or iPod online at
girlup.buybacktech.com
. This website was developed by
Electronic Recyclers International
for
Girl Up
, a campaign of the United Nations Foundation,with 100% of the proceeds going toward the Girl Up cause. Girl Up raises funds and awareness that help girls in the hardest-to-reach parts of the world. The funds raised help support girls in Ethiopia, Liberia, Malawi and Guatemala by providing them the opportunity to become educated, healthy, safe, counted and positioned to be the next generation of leaders. Almost 12 million girls — more than the entire population of Ohio — in Sub-Saharan Africa may never get a chance to enroll in school. Thus, by donating used electronics, you too can help support the betterment of the lives of millions of girls in the developing world. We all have some old electronics lying around the house, so why not donate them and help change the world? By sending in your items, you will help both girls in need and help our planet. It is really simple: All you have to do is go online, find your item, donate it and change a girl's life forever. How much easier can it be?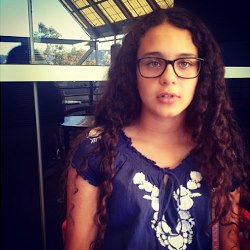 To learn more about Girl Up, head to GirlUp.org now.
Rebecca Ruvalcaba is a Southern California Girl Up club president and representative who loves spending time with her animals and eating copious amounts of pumpkin pie.
In her free time, Rebecca enjoys volunteering at her local church's food pantry to feed the hungry and reporting on issues facing girls in her community with GlobalGirl Media. She has also been a Girl Scout for 10 years and counting.