As the 2013-14 college basketball season tips off this weekend, thousands of students, alumni and fans will crowd the storied confines of America's great hoops sanctuaries. But, as the stands fill up, the waste begins to pile up as well. Food, drinks, programs, athletic gear and all the packaging that comes with these items creates an unenviable task for arena operations managers: Finding the most effective way to convince fans to think about recycling waste when they have come to focus on the game at hand. During each week of the regular college basketball season we will visit a big-time college basketball arena and see what recycling and waste-diversion tactics are being implemented from a facilities management standpoint.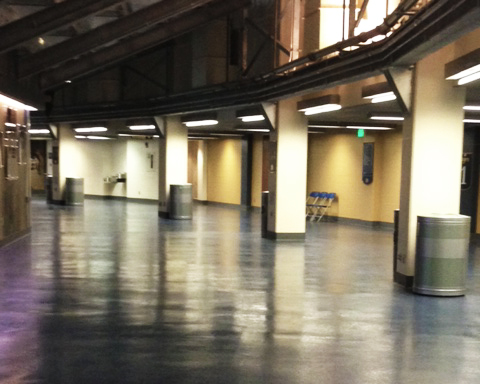 To kick off the season, we check in with one of the most famous universities in the world, the
University of Notre Dame
in Notre Dame, IN. Traditionally known as a football powerhouse, Notre Dame also holds its own on the hardwood, with stellar men's and women's squads. As the season begins, the men's team sits at #21 in the preseason AP rankings, while the women's lineup debuts at #6 (they finished second to conclude 2012-13). Both teams play at the 9,149-seat Edmund P. Joyce Center (which is also the site of all home games for the university's women's volleyball team), configured in an in-the-round seating layout that offers excellent views from any seat. The Joyce Center has been a campus landmark since it was erected in 1968. But, more recently, it has become a de facto recycling center as well. Christine Nielsen, Custodial Supervisor at the Joyce Center, tells 1-800-RECYCLING about the recycling operations at the arena.
"We have a compactor at Gate 6 [at the Joyce Center] for all cardboard, and a single-stream recycling compactor outside Gate 6 for the rest of our recycling — paper, Styrofoam, plastic, etc.," Nielsen says. Athletics department staff recycles behind the scenes, too. Nielsen confirms that there are recycling cans in offices, break rooms, every restroom and other areas throughout the Joyce Center. Beyond housing the necessary infrastructure to have a successful recycling program, the university is development new ways to help promote the arena's sustainability efforts. "There are plans with the university's Office of Sustainability to produce videos for the Joyce Center's center-hung video score board [on topics like] 'how to recycle' and 'what to recycle, what's garbage?'" Nielsen says. "The office also plans on making announcements before, during and after games about where to place trash and recycling items." Face-to-face education is also key to diverting game-day waste. Student volunteers stand by the trash and recycling cans during and after each Joyce Center event and direct fans to discard their items in the proper can.
"Our new receptacles have green labels for landfill and blue labels for recycling, so to make them more distinctive, we place them next to each other throughout the Joyce Center to give everyone the option to recycle instead of throwing the items into the garbage," Nielsen explains. When it comes to making sustainable choices, especially at major events like basketball games, convenience plays a major role. So, does Nielsen think is it easy for Notre Dame fans to choose to recycle instead of throwing items away in the garbage while at the Joyce Center? The answer is an enthusiastic "yes." "When I first came to Notre Dame, we actually had around 30 cardboard trash boxes and 20 blue plastic recycling cans," Nielsen recalls. "Now our new landfill and recycling cans are throughout our entire building. I'd say we have roughly 80 to 90 landfill and recycling cans throughout the Joyce Center."
More Joyce Center recycling resources
Twitter:
@SustainableND
Facebook:
facebook.com/NDsustainability
Edmund P. Joyce Center website