Background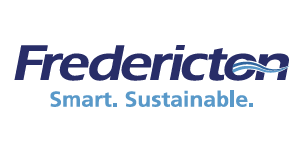 Fredericton, NB, Canada (pop. 56,224), is the capital of New Brunswick and the third-largest city in the province (trailing St. John and Moncton), which is located on Canada's far eastern reaches just north of Maine. For a city of its size, Fredericton boasts a rather sophisticated curbside recycling program that uses gray and blue boxes to sort different material types. Though residents of larger, multifamily dwellings are not offered curbside pick-up, they can take advantage of the four recycling depots spread across the city.
Materials recycled
Gray box
Newspapers, magazines, catalogs, corrugated cardboard, paperboard, envelopes, computer paper, mixed paper, phonebooks, paperback books and text books are collected in the gray box.
Blue box
All plastic containers, plastic bags, refundable drink containers (excluding glass), tin/steel cans and aluminum cans are collected in the blue box.
Frequency
Fredericton residents take recyclables to the curb on a weekly basis, same day as refuse collection. Weekly collection alternates for each box (i.e., gray boxes one week, blue boxes the week following). Bins must be placed curbside by 7 a.m on collection day. A
collection calendar
is available online.
Other programs
The City of Fredericton offers four recycling depots around town (located at the Fredericton Exhibition Grounds, the Brookside Mall, the Queen Street lot at the intersection of Northumberland Street and at the City Depot on St. Mary's Street on the north side) for multifamily building residents and others who need to drop off recyclables. Accepted materials include corrugated cardboard, boxboard, newspapers, flyers, magazines, catalogs, office paper, paperback books, plastic containers, plastic bags, refundable beverage containers, milk cartons and metal cans. Each depot is open 24/7/365. The Fredericton Region Solid Waste Commission offers a no-charge recycling drop-off point as well, located at the Fredericton Landfill (1775 Alison Blvd.). Materials can be dropped off Monday through Friday, from 7:30 a.m. to 5 p.m., and Saturday, from 7:30 a.m. to 3 p.m. The facility collects newspaper, corrugated cardboard, boxboard, office paper, magazines and other glossy paper, plastic bags, plastic containers (numbered 1 through 7), metal cans, paperback books, milk cartons, phonebooks and catalogs. The FRSC collects household hazardous waste twice a week at the landfill facility — on Wednesdays, from 7:30 a.m. to 4 p.m., and Saturdays, from 7:30 a.m. to 3 p.m. Collection is free of charge, but there is a 20L limit per visit.
More information
Visit the
City of Fredericton Recycling website
for more recycling program info.