Managing the waste output at one of America's largest public universities is no easy task, but that is the challenge that Dave Smith approaches on a daily basis. As the Waste Reduction Coordinator for the Campus Sustainability program at
Michigan State University
, Smith is always looking for ways to divert the school's waste stream from Michigan's landfills. Long known as a basketball school, Michigan State has identified a major waste-reduction opportunity at 1 Birch Rd., the site of the Breslin Center, which is home to one of the toughest home-court advantages in the country. The Spartans' arena seats 14,797 for men's and women's basketball games (slightly more when concerts or other special events come to East Lansing), and that means a
lot
of waste is produced each time the doors open to the public.
Recycling at Breslin Center games
Smith and his team have placed 37 commingled recycling stations within the Breslin Center concourse. These stations, located where fans enter and exit the seating areas, include a small trashcan alongside a large, open-top container for recyclables. In addition, there are waste stations at each of the four entrances outside the arena. These stations consist of two recycling containers and one trashcan. Common concession items such as souvenir cups and lids, water bottles, popcorn boxes, paper cups, cardboard trays and other recyclable items are accepted. There are also recycling stations set up across the rest of the building in offices, practice facilities, behind concession stations and other areas. "Recycling is a priority at the Breslin Center, as well as across campus," Smith tells 1-800-RECYCLING. "Our custodial staff assists us by collecting recyclable materials from all of the containers within our buildings and deposits them in specially marked containers on our loading docks. From there, we collect the recyclables and bring them to our material recovery facility, where we sort them, bale them, prepare them for shipment and sell them on the market." Beyond the Campus Sustainability program, other staff play an integral role in recycling at the Breslin Center as well. Smith notes that Michigan State's facilities manager is a strong supporter of recycling efforts, which was and remains critical to further enhancing the program. Campus Sustainability also works with the arena concessions manager regularly to ensure that cups, trays and other food-serving items are compatible with the arena's recycling program. During game time, the Athletics Department supports recycling efforts by showing recycling education messages on the scoreboard.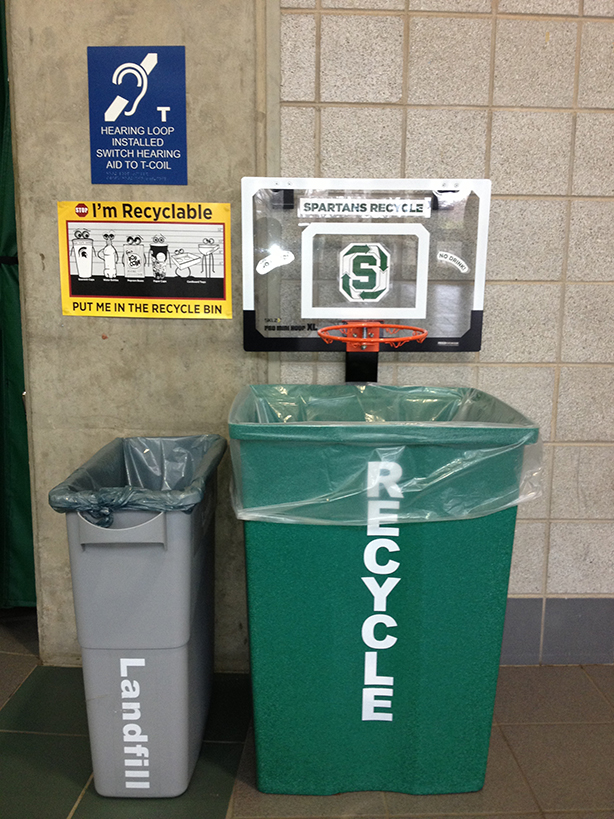 Food scrap collection at Breslin Center
Campus Sustainability recently started collecting unused food items that cannot be preserved in partnership with arena concessions. Concession staff collects unsold food items at the end of the event and disposes them into specially marked containers provided by Campus Sustainability. The containers are collected and taken to a digester on campus. There, the food scraps are combined with manure from Michigan State's network of local farms to produce methane. The methane is then used to generate power for buildings on campus. Leftover "digestate" is separated — the liquid is applied as fertilizer and the solids are composted. This initiative began at the start of the season.
Be Spartan Green Team
Another new green touch for the 2013-14 basketball season is a new strategy from the "Be Spartan Green Team." Members of the team assist patrons to make proper recycling choices in the Breslin Center concourse during games. BSGT members are students who volunteer their time to staff recycling/waste stations and help patrons recycle or dispose of items properly. "Team members have helped us at football games this year and will now be assisting us at basketball as well," Smith says. "We currently do not have enough volunteers to staff each of the stations, but hope the program will continue to grow as it helps us increase diversion and ensure a cleaner recycling stream." Smith also points out that recyclables are collected at special events at the Breslin Center. Due to poor inclement earlier in the school year, the "Sparticipation" freshmen orientation event was moved indoors to the Breslin Center. During that one event, 78% of the waste material generated was diverted.
Diverting waste now and into the future
Though Campus Sustainability does not track diversion rates on a game-by-game basis, overall diversion rates for buildings are noted on a regular basis. "Every time we pick up trash, surplus items, compostables and recyclables, those items are weighed and reported in our tracking system," Smith explains. "During last year's season basketball season, we diverted 39.51% of the waste from Breslin." Smith and his team are, in effect, trying to keep recycling consistent across Michigan State's 5,200-acre campus so that it is relatively simple and easy to understand, whether inside an academic building or at a sporting venue. To further assist in game-day recycling efforts, Campus Sustainability developed a game day guide for home football games to promote responsible tailgating. Now, the department is in the process of developing a similar guide for other campus sporting venues, including the Breslin Center. Undoubtedly, it won't be long before the arena's waste diversion rate is north of 50%.
Breslin Center recycling resources
Twitter:
@BreslinCenter
and
@MSU_recycling
Facebook:
facebook.com/BreslinCenter
and
facebook.com/MSUrecyclingcenter
Pinterest:
pinterest.com/msusurplusstore
Breslin Center website
MSU Recycling website