Background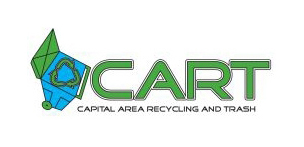 Under the Capital Area Recycling & Trash umbrella, the recycling gospel spreads across Lansing, MI (pop. 113,996), with presentations at local schools, an annual spring collection event called "Recycle Rama," special household hazardous waste collection events, Earth Day (April 22) and America Recycles Day (November 15) events and participation in the Tri County Environmental Leadership Award Program. Just this past fall, green single-stream (64- or 96-gallon) roll carts were elected the receptacle of choice in Michigan's capital city, with a growing number of atypical items are now collected at the curb, including rigid plastic items, toasters and pots and pans.
Materials recycled
Paper
Accepted items include office paper, newspaper and inserts, catalogs, brochures, magazines, file folders, gift wrap, drink cartons, paperboard, phonebooks, corrugated cardboard (must be cut to fit in bin), paper bags, greeting cards and junk mail.
Plastics
Plastic containers numbered 1, 2, 4, 5, 6 and 7 (rinsed) and bulky rigid plastics (buckets, chairs, toys, bins, barrels, etc.) are accepted. Styrofoam and plastic bags are not accepted.
Metals
Aluminum cans, tin/steel cans, metal pots and pans, aluminum cooking tins and trays, bakeware, toasters, metal lids and clean aluminum foil are accepted.
Glass
Glass bottles and containers (all colors; rinsed) are accepted.
Frequency
Lansing residents take recyclables to the curb on a biweekly basis, same day as refuse collection. Green carts must be at the curb by 7 a.m. on day of pick-up and must be returned to property by the end of collection day. A collection
calendar and map
are available online.
Other programs
CART provides
online listings
of area recycling resources for recyclables not collected at the curb, such as appliances, construction/demolition materials, propane tanks, automotive fluids and more. Christmas trees are collected at the curb the week following Christmas on regularly scheduled collection days. Trees should be stripped of lights, decorations and ornaments. If taller than 6 feet, the tree must be cut in half. Yard waste is collected at the curb from April through November on a weekly basis (same day as trash and recycling). Leaves, grass clippings, tree trimmings and other types of organic waste may be placed in paper yard waste bags totaling 30 pounds or less. Brush and tree trimmings can also be bundled with string or twine and placed at the curb. Branches must be less than 4 feet long and less than 2 inches in diameter.
More information
Visit the
City of Lansing Capital Area Recycling & Trash website
for more recycling program info.