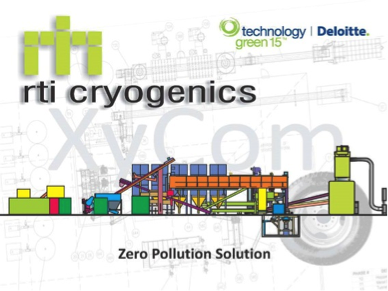 The tire recycling industry
Tire recycling (as an industry) is dirty, inefficient and archaic. Many tires are burnt as fuel, buried as landfill or shredded using outdated and ineffective equipment. Throughout the world, massive stockpiles of tires sit, sometimes in the millions. Storage of tires in this way can be very dangerous and exceptionally bad for the environment. In 1990, in Hagersville, ON, Canada, 14 million scrap tires went up in flames. The fire raged for an astonishing 17 days and left behind a pool of toxic sludge. The air, soil and deep groundwater was heavily contaminated causing damages in the hundreds of millions of dollars. The problem is that people see these tires as scrap. The reality is that these tires are valuable raw materials with an incredible potential for reuse in a 100% green way. It takes 140,000 BTUs of energy to create 1 pound of tire. Burning that same 1 pound of tire only creates 14,000 BTUs of energy. Recovering 10% of this energy is an unacceptable "recycling" practice. RTI Cryogenics' technology can recycle 100% of the tire without creating any pollution. We call it our "Zero Pollution Solution." A standard RTI plant can create 100 million pounds of Xycom TPE in one year, meaning that it can process 3 million tires per year. In Canada alone, 13.5 million tires are scrapped every year. RTI has the solution to that problem.
RTI Cryogenics' technology: The first fully recycled thermoplastic elastomer (Xycom TPE)
RTI Cryogenics Inc. in Cambridge, ON, Canada, has developed a patent-pending technology to blend cryogenic tire crumb rubber with post-industrial recycled plastic to produce a 100% recycled thermoplastic elastomer (TPE) pellet without any additives and with no effluents. This product is called XyCom TPE. There are three technologies that combine to make RTI's tire recycling system: primary tire recycling, cryogenic fine mesh and TPE blending. Each technology is pollutant-free and uses no additives or catabilizers. To read more, click
here
.
RTI Cryogenics' accolades
RTI's technologies earned it the prestigious
Deloitte Technology
Green 15 award in 2010 and again in 2011. In 2011, RTI was also ranked #2 in the Deloitte 2011 Technology Fast 50 for Canada and ranked #3 in the Deloitte Technology Fast 500 for North America. Technology Green 15 companies are chosen based on their ability to develop technology solutions and intellectual property that promote a more efficient use and reuse of the earth's resources. These companies reduce or eliminate environmental impacts while improving operational performance and productivity. RTI has signed a global off take agreement with
Vinmar Projects, Ltd.
, a
Houston
-based conglomerate ($4+ billion USD sales). Vinmar will buy all of the output of the XyCom TPE pellets produced by all plants for the next 10 years on a take-or-pay basis with payment for the product backed by their letter of credit.
What is Xycom TPE used for?
Xycom can be used in any injection molding system (such as the making of car parts). It can also be extruded to make synthetic lumber that will not splinter, warp or rot. This lumber is also UV, termite and skid resistant. The possibilities for Xycom TPE are nearly limitless.
The RTI vision
RTI's tire and plastics recycling technology will affect positive change on the industry. Our method will make tire recycling sustainable and efficient and will eliminate the pollution associated with the process. Beyond being ecologically positive, our technology is so efficient that it generates an extremely lucrative business model. Because of this, we believe that our technology will be able to effectively penetrate the market and therefore be able to significantly change the industry in a positive way. It doesn't just stop here. Currently, our technology is focused on the recycling of tires and post-industrial plastics. However, we are close to finalizing technology to allow the recycling of post-consumer plastics such as PET (plastic bottles and packaging). We have also been keeping an eye on a young entrepreneur named Boyan Slat (
see video
), who has developed technology to collect plastics from oceanic gyres across the globe. It is possible that one day we may work together to create an entirely green chain of recycling from top to bottom. Our hope is that by spreading the word about our green technology on the Web that we will be able to connect with the finances needed to begin building Xycom recycling plants here in Ontario and, eventually, throughout the world. Please take the time to Like and share
RTI's Facebook page
. Together we can make positive change!
Jeremy Hedges is the son of Gary Hedges, co-founder and CEO of RTI Cryogenics. Jeremy was a varsity rugby player for Wilfrid Laurier University and is a budding entrepreneur with a strong belief in RTI's technology. Email Jeremy at jeremy.hedges@rticryo.com, or connect on the phone at 519.212.7466.