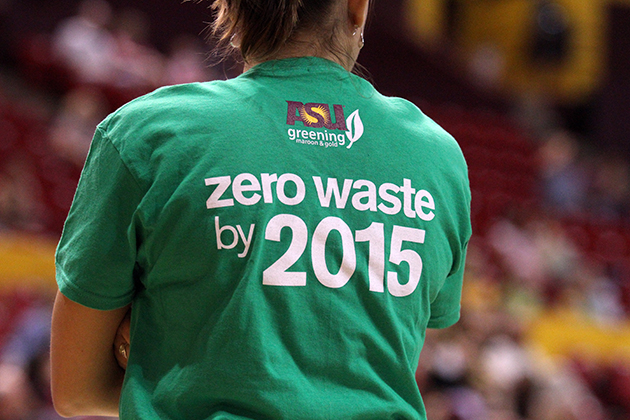 No matter the operation, zero waste output is an incredibly difficult goal to reach. In terms of big-time college athletic events, achieving zero waste is virtually uncharted territory. Combining the right logistical mix of recyclable and compostable concessions items can be tricky from financial and operations perspectives, but it is certainly a possibility. Zero waste by 2015 is the goal for
Arizona State University
's
Sun Devils Athletics
operations, and this current transition period from football to basketball season will play a major role in the outcome of the university's efforts. Maggie Emmons, ASU's Assistant Sports Information Director, says Sun Devil Athletics began its zero-waste initiative for the final home football game of the season this past November 30 against in-state rival Arizona. But that last football game at Sun Devil Stadium was just the beginning of season-long efforts through 2014 for both basketball and baseball games at ASU. Wells Fargo Arena, the 10,754-seat home to men's and women's basketball since 1974, is the site for a major zero-waste focus over the next few months as PAC-12 conference play begins for the Sun Devils hoops squads. Efforts are already underway to keep better track of the waste generated within the arena during home hoops contests. "Arizona State University's sustainable practices keeps track of diversion rates at each event with the goal of reaching about 90% diversion to meet zero waste," Emmons explains. "At Sun Devil Athletics' zero waste events, we provide large, well-labeled receptacles for both recycling and composting waste. There are trashcans in [each athletics facility on campus], but we encourage fans to either recycle or compost by making the containers focal points in the venues." As Wells Fargo Arena celebrates 40 years at the northern end of the country's largest university, located in Tempe, AZ, it is Sun Devil Athletics' partnership with food vendor
Sodexo
that is scoring big within the arena (the men's hoop squad is an impressive 12-3 at press time, and the women's team is rolling at 12-2 as well). Emmons says
ASU
and Sodexo have come up with a plan to solely provide recyclable and compostable items for sale at games to ensure a successful diversion rate of all materials.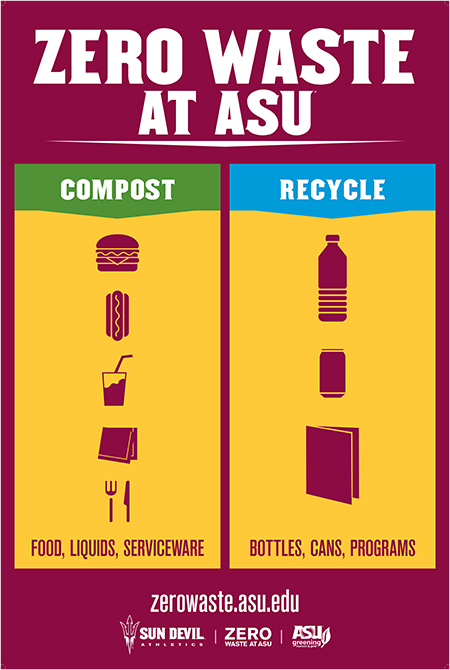 Promotion of this zero-waste initiative has taken a green spin as well. All program information can be found online at
zerowaste.asu.edu
and by using the hashtag
#ZeroWasteASU
on social media platforms like Twitter and Facebook. "We are not producing any printed material because it is counterproductive to our message," Emmons says. "We are trying to use creative, visual and viral messaging to spread information without creating more waste." As the meat of the conference basketball schedule unfolds and spring baseball season shortly arrives, will Sun Devil Athletics realize its zero-waste goal? All the necessary elements are already in place: a perfect logistical plan, an arena decked out with recycling and composting bins and a low-impact digital marketing scheme. Now it is up to the Sun Devil faithful to make that goal a reality.
More Wells Fargo Arena recycling information
Twitter:
@ASUrecycles
Facebook:
Facebook.com/ASUrecycles
Wells Fargo Arena website