The
University of Wisconsin
is a unique place. Situated on the banks of Lake Mendota in
Madison
with an enrollment of just more than 43,000 students, Wisconsin is equally well known for its rich academic tradition and its hard-nosed, deliberate style on both the gridiron and the basketball court. Coach Bo Ryan's Badgers are ranked #9 in the Associated Press poll at press time and are well positioned to make a deep run in the NCAA tournament this spring. Both the men's squad and the women's team have called the Kohl Center home since its opening in 1998. The 17,230-seat arena has staked its reputation time and time again as one of the hardest places for visitors to win in the Big Ten Conference. It is also one of the conference's greenest arenas, despite being the third largest in capacity (just behind Ohio State and
Indiana
). Kay Coleman is the Custodial Operations Manager at the university, and she oversees the arena's recycling program. She explains that recycling is practiced on a daily basis throughout several areas around the Kohl Center, including the arena offices, locker rooms and kitchen. "[During] events, we recycle in our seating bowl, suites, concourses and kitchen," Coleman says.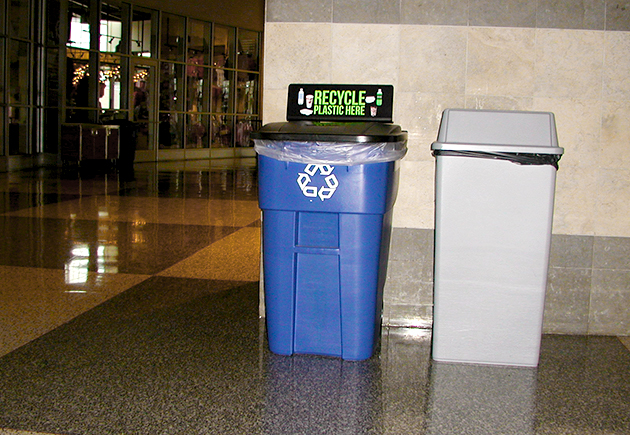 That's a good deal of recycling going on within the confines of a single building, but Coleman is quick to point out that waste diversion at the Kohl Center is an ongoing process of studying trends and implementing solutions. For instance, food waste from the Kohl Center kitchen is now being composted instead of getting tossed in the trash. Campus group
WE CONSERVE
, a program dedicated to waste elimination and conservation, helps with recycling efforts at the arena and makes it easy for students to get involved and learn more. Every trashcan in the arena concourse is paired with a recycling bin. Yet outreach work remains. The university does not yet keep track of waste diversion rates at basketball games, but eliminating waste has clearly become an operations priority.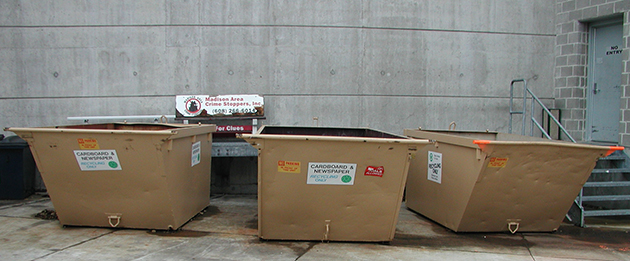 Coleman says the Kohl Center's video board displays recycling announcements and reminders during arena events, and brochures that go out to the season ticket holders detail the importance of recycling and how patrons can get involved when visiting the Kohl Center. What is next for the Kohl Center? Well, probably maintaining its incredible home-court advantage while continuing to cut back on waste little by little. Will the arena win the waste-reduction championship? We wouldn't bet against it.
More Kohl Center recycling info
Twitter:
@UWBadgers
Facebook:
Facebook.com/WisconsinBadgers
Kohl Center website