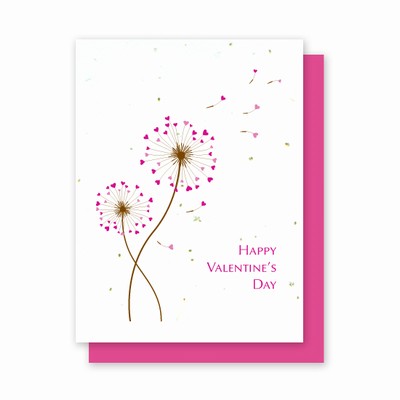 Valentine's Day is coming up, which means it is time to show appreciation for your loved ones. Many people show their admiration during this holiday by buying several gifts, such as chocolates, flowers and cards. That last item, in particular, is quite wasteful. Millions of Valentine's Day cards are bought and exchanged annually, and most of these cards sooner or later end up being disposed of. In order to help reduce Valentine's Day waste, many companies have taken the initiative to create recycled cards or find some other creative way to make Valentine's cards that do not negatively impact the environment. Below are a few of our favorites.
Green Field Paper Company has created the Valentine's Day Dandelion Chia Card (above). Made with handmade natural white paper studded with chia seeds and printed with soy ink, recipients can literally grow these cards into dandelions when they are finished displaying. The paper decomposes naturally into soil, with easy planting instructions found on the card's back.
My Good Greetings will create personalized Valentine's Day cards with pictures of you or your loved ones. Next to this, there is a number of designs and colors customers can choose from. These customized cards are made with 100% recycled matte card stock paper and come in 100% recycled envelops.
Nigel's Eco Store allows consumers to customize their own Valentine's Day cards without the use of paper. For a unique gift, use a key or similar item to carve a Valentine's greeting into a solid plank of wood. Not only is this an eco-friendly greeting card alternative, but it would also make a beautiful decoration for any part of home.
Aside from these options for environmentally friendly Valentine's Day cards, a great idea for those who are looking for a creative gift for their loved ones would be to make their own cards. Scraps that are lying around the house like cardboard paper, colored paper and even snippets from magazines could turn into a beautiful, unique gift.