Background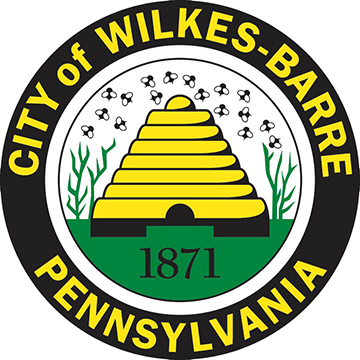 Though modest in population, Wilkes-Barre, PA (pop. 41,243) is located at the center of northeast Pennsylvania's Wyoming Valley, a region that includes other notable cities like Scranton and Hazleton with a total population that tops 500,000. As one of the larger cities in this portion of the state, Wilkes-Barre is looked upon as a leader in curbside recycling practices. Pennsylvania state law requires that aluminum cans and bottles, steel/tin cans and newsprint must always be recycled. To build upon that requirement, the city introduced commingled curbside recycling collection in February 2012.
Materials recycled
Required by law
Aluminum cans and bottles, steel/tin cans and newspapers (with inserts). All of these items must be recycled, not sent to landfill.
Additional recyclables that can be placed in the recycling bin
Plastics numbered 1 through 5 and 7, aluminum foil, cardboard, paperboard, colored paper, office paper, three-ply paper, empty aerosol cans, envelopes, egg cartons, file folders, glass bottles and jars, hardcover books, soft-cover books, phone books, drink cartons, junk mail, magazines, catalogs, brochures, pots and pans and small metal objects. No polystyrene products or plastic bags.
Frequency
Curbside recycling pick-up occurs every other Monday based upon location in the city. Bins must be curbside by 7 a.m. on collection day to ensure pick-up. A collection map is available
online
.
Other programs
Yard waste has been collected at the curb in Wilkes-Barre for more than a decade. The successful program keeps it simple — residents can collect their organics in an open-top container or bundle them together in a yard waste bag and drop them curbside. Accepted items include leaves (during designated autumn pick-up dates), grass clippings, garden waste and garden residue, wood trimmings and waste and sod.
Christmas trees are also collected at the curb in the weeks following the holiday each year.
The above-listed recyclables may also be taken to the Wilkes-Barre Department of Public Works (3 Conyngham Ave.) for free drop-off Monday through Friday, from 7 a.m. to 3:30 p.m.
More information
Visit the
City of Wilkes-Barre Recycling website
for more recycling program info.