Background
North Carolina's fifth-largest city, Winston-Salem (pop. 234,349), is home a curbside recycling program that utilizes spacious 96-gallon blue roll carts. As a key municipality in the Piedmont Triad — a metropolitan area of 1.6 million residents that includes nearby Greensboro and High Point — Winston-Salem is proving to be a recycling leader in the northwestern portion of the state.
Materials recycled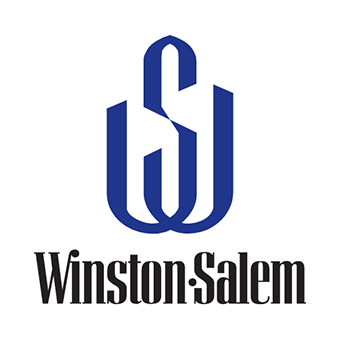 Paper
Cardboard, milk/juice cartons, paperboard boxes and rolls, junk mail, office paper, envelopes, office and notebook paper, newspapers and inserts, magazines, catalogs and phone books are accepted.
Plastics
All clear and colored plastic bottles and jugs (the neck of the container must be thinner than the base or widest part) are accepted. All items must be rinsed. Plastic caps/lids are OK. No plastic bags or Styrofoam products. Shredded paper may be placed in the cart if placed in a tied clear plastic bag.
Metals
Aluminum cans, aluminum foil, aluminum pie tins, steel/tin food and beverage cans and empty aerosol cans (no caps/lids) are accepted. Metal lids OK if tucked into empty cans. All items must be rinsed.
Glass
Clear, blue and green glass food and beverage containers (emptied and rinsed; no lids) are accepted.
Frequency
Winston-Salem recycles at the curb on a biweekly basis. Carts may be placed at the curb no earlier than 5 p.m. the day prior to pick-up and no later than 6 a.m. on collection day. All carts must be returned to property no later than 8 a.m. the day following pick-up. Carts should be placed 3 feet from any obstructions along the curb with metal lift handles facing the street. A collection map and calendar are available
online
.
Other programs
RECONNECT, a local e-waste recycling program started through a partnership with Dell and Goodwill, allows Winston-Salem residents to drop off unwanted computers, monitors and printers for free at any
local Goodwill store or collection center
. Household hazardous waste and electronic waste items can be collected and taken to the Enviro-Station, located at 1401 S. Martin Luther King Jr. Dr. Dozens of materials and electronics can be dropped off for safe, free recycling at this location. Hours are 9 a.m. to 2 p.m. Tuesday through Friday, and 9 a.m. to noon on Saturday. A complete list of accepted items can be found
online
. For a $60 annual fee, Winston-Salem residents can opt for a 96-gallon green yard waste roll cart. Grass, leaves, small branches, sticks, shrubs, clippings and other yard residues can be placed in the cart for regular curbside collection. Three convenient drop-off recycling centers are open Tuesday through Saturday, from 8 a.m. to 5 p.m., for all residents of Forsyth County (which includes Winston-Salem and surrounding municipalities):
Hanes Mill Road Landfill, 325 Hanes Mill Rd.
Forsyth County Center #1, 445 Lindsay St. in Kernersville
Forsyth County Center #2, 6328 Yadkinville Rd. in Pfafftown
In addition to the curbside recycling program, corrugated cardboard can be dropped off at any of the participating fire stations listed below. Food-soiled cardboard and packing materials are not accepted.
100 Arbor Rd.




4700 Country Club Rd.




2995 N. Liberty St.




290 Martin Luther King Jr. Dr.




651 N. Marshall St.




4685 Ogburn Ave.




771 Palmer Ln.




2417 Reynolda Rd.




2745 Waughtown St.



More information
Visit the
City of Winston-Salem Recycle Today website
for more recycling program info.