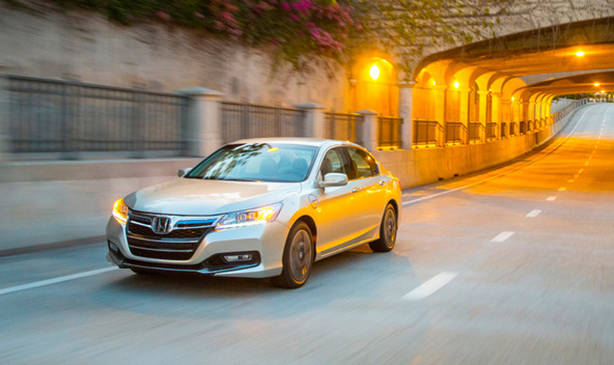 With more hybrid cars coming to the market in 2014 than usual, now is a good time for those who are thinking of buying a new car to look into the different eco-friendly options. One vehicle that has attracted a lot of attention for its many green features is the
2014 Honda Accord Plug-In
.
Three driving options
With two motors, the new Accord Plug-In gives the driver three different driving mode options:
EV Drive — or all-electric drive. This mode is best for starting from a stop, light cruising and light acceleration.
Hybrid Drive — wherein electric and gas work together. This option is best when you are accelerating and changing speeds frequently.
Electric Drive. This is best for when the driver is cruising, particularly on highways.
The 2014 Honda Accord Plug-In also gives drivers other
eco-friendly options
to help them travel more efficiently. The car uses "Eco Assist," which consists of features such as an ECON button that configures the engine and other energy-consuming systems to operate more efficiently when selected. There are also coaching bars around the speedometer that tell the driver how efficiently he or she is driving. Inside, the spacious interior is decked out in Honda's Bio-Fabric seats, sourced primarily from renewable sugarcane plants. Those weary of plant-based fabrics might want to take a second look: Bio-Fabric is durable, sunlight resistant and surprisingly smooth, all while being "
climate neutral
." When operated as a gas-electric hybrid, the Accord Plug-In averages about 47 mpg in the city and 46 mpg on the freeway. When the car is operated in electric mode, it is rated to get 124 MPGe in the city and 105 MPGe on the freeway. The Accord Plug-In has a 10-mile electric range, so any drives that are 10 miles or less round-trip do not require any gas.
The 2014 Honda Accord Plug-In starts at $39,780, and is currently available in New York and California. For more information, go to the manufacturing website here.