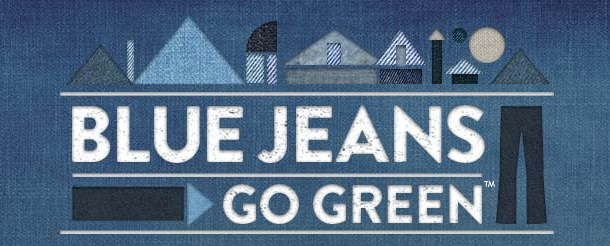 The time of year when I put a Saturday aside to make the (what I refer to as) "closet switch" is coming around. It happens twice per year — once to switch my summer clothes out with my winter clothes that are stored in bins, and vice versa. Typically, it is also the time of year that I go through my clothes and donate some to Goodwill and take the ones that need to be mended to my local tailor. One item that I hate to get rid of is my denim. We all know how hard it is to find a great pair of jeans, not to mention how expensive they can be, which almost makes each pair an investment. I have sent countless pairs that I cannot part with to
Denim Therapy
, a New York-based company that repairs your jeans, no matter how extreme. But, for those that require expensive repairs or are perhaps out of style (such as the denim bibs that are in my costume bin), I have been searching for a solution rather than just tossing them in the trash. This past week, not only did I find my answer, but I also motivated myself to clean my closet earlier this year.
Blue Jeans Go Green
(previously known as Cotton From Blue to Green) is an initiative started by Cotton Incorporated in 2006 to emphasize the natural and environmental attributes of cotton and to offer people an opportunity to give back to their community in a unique way. That first year, 14,566 pieces of denim were collected. The number more than doubled in 2007, and 70,000 square feet of
UltraTouch Denim Insulation
was manufactured from the recycled denim haul. It was then given to
Habitat for Humanity of Greater Baton Rouge
(Louisiana) to help in the rebuilding efforts in the aftermath of Hurricane Katrina. Through the years, the initiative has generated considerable interest from schools and universities, corporate retailers and businesses across the country. In 2013, Cotton Incorporated rebranded the campaign, designed a website (which is why it operated under the radar in the past) and partnered with celebrities, colleges and universities and large retailers to help reach and surpass 1 million pieces of denim collected. In just three months, that goal was achieved, and 250,000 square feet of insulation was distributed to Habitat for Humanity affiliates. Most recently,
Blue Jeans Go Green partnered with J. Crew
to collect denim in the retailer's stores and offered customers 15% off their purchase of a new pair. To date, Blue Jeans Go Green has diverted more than 600 tons of denim from landfills. So, how do you get involved? Simply print out a
mailing label
and send your package off to the denim recycling center. It can be any color denim, in any type of condition and nothing needs to be removed (such as zippers and grommets) prior to sending. Insulation is one of the most important components of a home's energy usage. It keeps a home cool in the summer and warm in the winter. So, do not forget to take a moment and think about those you are helping that are in need.