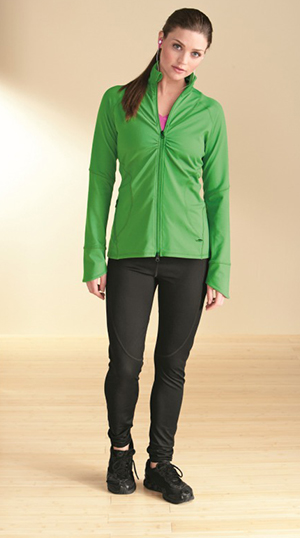 Now that spring is around the corner, the weather has started to warm up and people in many parts of the country will once again have the opportunity to go outdoors and partake in different athletic or adventurous activities. This year's springtime eco-fashion crop has arrived just in time for this change of season, and one piece of clothing that will be great for spring weather is Gaiam's zip pocket running pants. The zip pocket running pants are environmentally friendly, as they are made out of 86% recycled polyester and 14% spandex, and they will keep you comfortable since the fabric naturally wicks away moisture.
Wicking fabric
is great for outdoor clothing because it works to keep perspiration off of the skin, and the perspiration therefore evaporates easier. The seaming and smooth waistband also makes these pants a comfortable wear for any sporty activities. The zip pocket running pants would be my personal choice for workout bottoms because their material adds comfort in both hot and cold weather, plus the fact that they are at such a low, discounted price right now. Eco-friendly alternatives to clothing can sometimes be pricier than other clothes, so this is the perfect opportunity to take advantage of this offer. For a sustainable and comfortable sporty look this spring, these zip pocket running pants pair well with
Marmot's Dena jacket
.
For purchasing information, see gaiam.com.