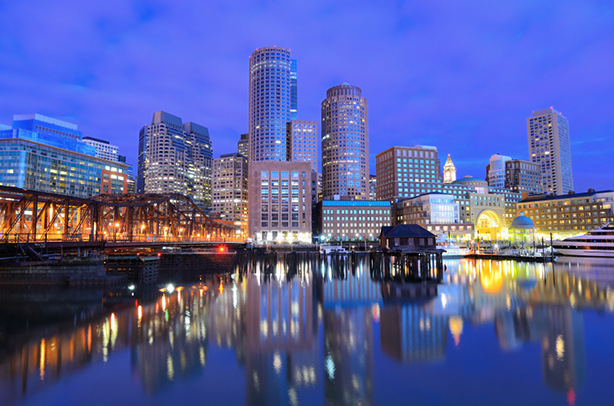 While
Boston
is known for its Red Sox, it also seems to be one of the most festive cities for Earth Day celebrations. From a film festival, to the Charles River Cleanup, to face painting for kids, Boston boasts a ton of activities and events for the whole family. We have pulled together a list of green events from around Beantown to give you the opportunity to join in the Earth Day party, which extends into May.
Calling families and kids of all ages! The Rose Kennedy Greenway (185 Kneeland St.) is hosting its first family day of the year to work on light gardening tasks. The greenway is a mile-and-a-half of contemporary parks in the heart of Boston, which also boasts a roof garden atop a highway tunnel. Be sure to ride the Greenway Carousel while you're there — a one-of-a-kind for Boston.
Hit the streets of Boston on a 5k course and raise funds for the World Wildlife Fund. Everyone is invited, from cheetahs (inexperienced or first-time runners), to kangaroos (parents with strollers) and even sloths (non-runners).
Get outside and show you love the earth by take a #NatureSelfie! Co-sponsored by the U.S. Environmental Protection Agency and The Nature Conservancy, they want everyone to participate in this fun activity. Throughout the week, the two organizations will be sharing their favorite pictures on Facebook and Twitter.
Boston Shines – Friday, April 25 through Saturday, May 10
This annual citywide cleanup event has become a staple around the city of Boston. Residents, as well as local businesses and organizations, are invited to volunteer in a widespread beautification effort. For the past nine years, more than 5,000 volunteers have participated in the event, picking up more than 46 tons of trash and debris. It will take place over three weekends this spring, focusing on different areas in and around the city.
The Charles River Watershed Association organizes this cleanup each year, and around 3,000 volunteers participate to assist in picking up the trash along the banks of the Charles River. Last year, volunteers removed an estimated 50 tons of litter, including television sets, bicycles, Styrofoam cups and plastic bags along the 80-mile river.
The Department of Conservation and Recreation will host a statewide Park Serve Day from the Berkshires to Cape Cod. In 2013, more than 4,000 volunteers planted almost 900 flowers and shrubs and had collected more than 37 tons of trash. Pick a park and make a difference!
Celebrate the earth's animals with a day at the Franklin Park Zoo (1 Franklin Park Rd.). There will be a variety of Earth Day-themed events, with opportunities to meet the zookeepers, animal enrichment activities, scavenger hunts, entertainment, eco-friendly exhibitors and much more.
Presented by Whole Foods, this free festival at the Department of Conservation and Recreation's Hatch Shell (47 David G. Muger Way) is a family-friendly celebration for the earth, showcasing national and local music acts, environmentally friendly products and local nonprofit environmental organizations.
Venues across Boston will host showcase special events, discuss environmental issues and present feature films and shorts. Presented by "e" Inc., the films will focus on current environmental successes and struggles, activism and animations, along with investigations about energy and the sheer beauty of the natural world. Do you know of any Boston Earth Day events that we missed? Please share them in the comments below for our readers.