Though
Earth Day
has passed, the folks in Indianapolis continue to celebrate living green. The Indianapolis Jewish Community Center (6701 Hoover Rd.) is not only committed to enriching the lives of its members, but also promoting the health and wellness of Indianapolis residents and the environment.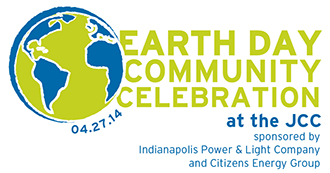 JCC's
Earth Day Community Celebration
takes place on Sunday, April 27, from noon to 4 p.m., sponsored by
Indianapolis Power & Light Company
and
Citizens Energy Group
. The event begins with a free tree planting sponsored by
Keep Indianapolis Beautiful
. JCC boasts there is family-friendly fun for all ages, with more than 50 hands-on activities designed to inspire good environmental stewardship and to reconnect people with nature. Whether it's digging for worms or painting a flowerpot, everyone can "learn by doing." Other entertainment includes kite flying, face-painting, obstacle courses, music, food trucks, eco-friendly vendors and other green fun. For the artist in the family, JCC is also hosting its second annual
Fence Art Festival
(rain or shine). If you have creative ideas and are looking to showcase your talents, exhibit your art in this juried art competition. Two- and three-dimensional artists are welcome. Think big — each artist gets an 8-foot section of fencing to display — with the environment and nature in mind. Art must be installed in one day and prizes will be awarded. Limited spaces are available, so for more information, contact Vanessa at 812.614.3604. With "community" as its middle name, JCC enhances the physical, social, emotional and spiritual health of the Indianapolis community. JCC's Earth Day celebration fulfills this mission and more by inviting all families and general public to this spectacular event.