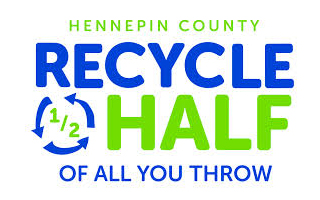 Around 25% of everything we throw away is organic waste — food scraps and food-soiled paper products. Instead of throwing organic waste away, you could throw it into a
backyard compost bin
and turn it into wonderful compost, or, if your city offers an organics collection program, your organic waste can be recycled into valuable compost. This compost could then be used in landscaping and road construction projects instead of taking up space in a landfill or being burned in an incinerator. Using compost helps to replenish soil and reduce soil erosion. It helps to prevent polluted storm water runoff from contaminating wetlands, lakes and streams. It also helps to prevent climate change by capturing carbon dioxide and preventing methane generated when food is landfilled. If you live in or near
Minneapolis
, residents in several area cities can add organics collection to their trash collection service. And, Hennepin County, which includes the Minneapolis area, is working to make organics recycling programs an option for even more county residents. If you are not in one of the cities that currently collects organic waste, you can still reduce waste by composting in your back yard or dropping off your organics at the
Brooklyn Park Drop-off Facility
. Haulers in the following cities in Hennepin County offer organics recycling programs:
Edina (Morningside)
Loretto
Maple Plain
Medicine Lake
Medina
Minneapolis — Organics recycling service is currently available to Minneapolis residents in Linden Hills and ECCO, as well as parts of the Seward, Longfellow and Howe neighborhoods. In Linden Hills, the city, Hennepin County and Linden Hills Power & Light are working together to make this pilot project as successful as possible. The results of the pilot will help determine whether the city would like to expand organics recycling to other Minneapolis neighborhoods.
Minnetonka
Orono
St. Bonifacius
Wayzata
The following materials are accepted for organics recycling:
Food scraps, including fruits, vegetables, meat, fish, bones, bread, pasta, baked goods, eggshells, dairy products and coffee grounds
Food-soiled paper products, including paper towels, napkins, paper plates, paper cups, milk and juice cartons, pizza boxes, egg cartons, frozen/refrigerated food boxes, waxed paper and paper containers, coffee filters and tea bags
Other compostable items, including full vacuum cleaner bags, dryer lint, tissues, cotton balls, floral trimmings and house plants
If you live in a community within Hennepin County and would like to have an organics recycling program in your city, let your hauler and elected officials know that you are interested in this service. Contact your city council members, mayor and hauling company. Get interested neighbors to do the same!
For more information, visit the Hennepin County website.