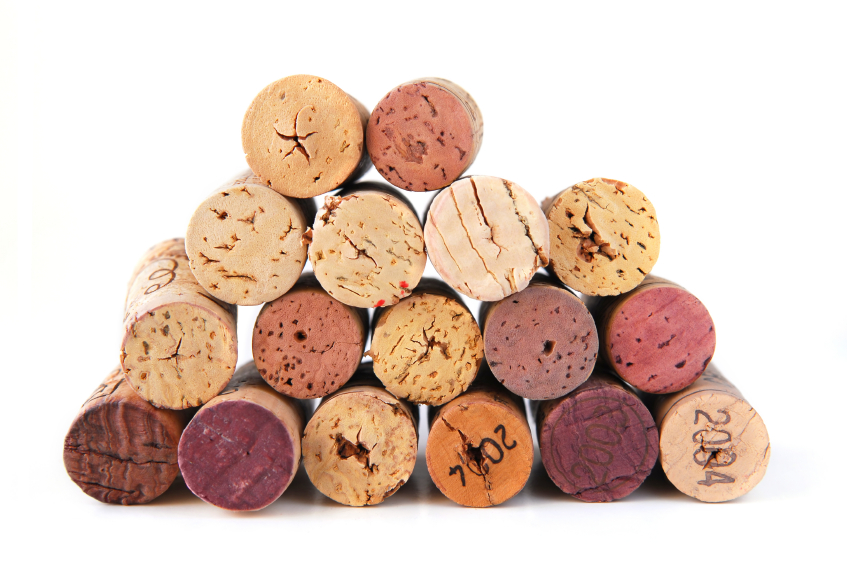 Consumers worldwide are expected to drink 34 billion bottles of wine a year by 2015. The U.S. leads the charge, downing about 3 billion bottles annually (France, the world's top producer, is at number five). Each of those 34 billion wine bottles is sealed with something. Although screw-top lids are becoming more common, corks are still far and away the leading choice for sealing a bottle of wine (or champagne or craft beer) shut. What are those corks made of? Can they be recycled, and where are the best places to take them? Let us share our top finds.
What are corks made of?
Wine and champagne bottle corks in the U.S. are made of either cork or plastic. The cork ones actually come from a real cork tree. Unlike rubber and sponges, which used to come from natural sources and are now made with synthetic material, your cork begins its life as tree bark (oak tree bark, to be more exact). That bark is harvested, dried, boiled and cut into the tiny stoppers that form a perfect seal on your bottle. Most cork trees are found in Spain and Portugal and can live for up to 300 years. For a fascinating blow-by-blow of how corks are made (with plenty of pictures), check out
this website
. Plastic corks are made a couple different ways. One option is to make a continuous piece of cork that is cut into smaller pieces. Another is to make the corks one by one using an injection mold. The final possibility blends bunches of little plastic beads together into corks. As the technology for making synthetic corks continues to improve, plastic corks are beginning to behave more like their plant-based counterparts, allowing the wine to breath and continue to develop even after it is bottled.
This video
shows one company's process for making synthetic corks.
How to recycle corks
You are extremely unlikely to find a curbside recycling program that accepts corks, which means you have to work a little harder to find an outlet for them. But, there are several places set up to recycle your corks — as long as they are actually made of cork. One example is
ReCork
, which takes your old stoppers, grinds them and puts them back into shoes and other products. The shoes are made by Sole, which started ReCork and has collected more than 47 million corks to date. The company also plants new cork trees — more than 8,000 and counting, according to its website. Although ReCork works mainly with corporate partners, it also partner with nonprofits and other organizations to set up collection centers. Search ReCork's website to see if there is a collection point at your local recycling center or another nearby location.
Cork ReHarvest
, part of the Cork Forest Conservation Alliance, collects corks at grocery stores, wine stores and other locations. It sells the corks to people who reuse them for a variety of products, including paper, fishing bobbers and consumer products. Cork ReHarvest's mission includes educating people about the importance of preserving cork trees. Check the organization's website for a list of collection centers.
Ideas for reusing corks
If neither of these options suits you, reuse ideas abound for wine corks. Stitch them together to make trivets or coasters. Attach rows to tables, countertops, picture frames or even a plain board to make your own cork board. Carve designs in the ends and use them as stamps. Work them into jewelry or key chains. Here are a couple resources for reuse ideas:
Addicted2Decorating shares 30 ways to reuse corks.
The website Wise Bread has 25 ideas for putting corks to good reuse. It also shares a history of cork trees and ideas for additional places to take them to recycle.
And, of course, there is always Pinterest. This pin board claims to have 1,001 ideas for reusing wine and champagne corks.
Most of these projects work best with nonplastic corks. Saving the corks from red wine will add interest to projects if the wine has added a purple tinge to the ends. If you are not the crafty type, chances are someone else in your community can put your old corks to good use. Search for a reuse organization that specializes in craft supplies, such as the
Reuse Centre
in
Edmonton, AB, Canada
, or
Austin Creative Reuse
in Austin, TX.
Can I use an old cork to seal a new wine bottle?
The consensus seems to be no.
WineMaker
magazine shares that cork, being a natural substance, contains microbes that are unpredictable once that original bottle is opened. In addition, if the cork has started to dry out, it will allow air into the bottle. Your best bet for recorking an old bottle is an apparatus intended for that purpose, such as a rubber cork with a vacuum sealer that can create an air-tight seal. Equipment for resealing wine is available at wine shops or kitchen supply stores.