Background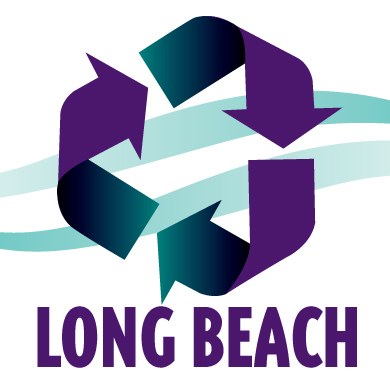 Long Beach, CA (pop. 467,892), is the second-largest city in Los Angeles County (behind, of course, its
namesake city
), the seventh-largest city in California and the 36th-largest city in the U.S. It is also one of the busiest ports in the entire country, importing and exporting goods used all over the world. On land, Long Beach residents use purple 96-gallon single-stream roll carts to collect recyclables. Long Beach has a robust recycling program that you would expect of a city of half-a-million residents: weekly pick-up, a multitude of accepted materials and a web of recycling drop-off facilities to ensure virtually any material can get recycled within the city's limits.
Materials recycled
Paper
Corrugated cardboard, mixed paper, junk mail, catalogs, paperboard, milk cartons, phonebooks, magazines, juice boxes, newspapers and office/printing paper are accepted.
Plastics
Plastic bottles (caps/lids OK), plastic grocery bags, plastic dry-cleaning bags and plastic containers numbered 1 through 7 (including CD jewel cases). Polystyrene products, such as egg cartons, cups, containers, clamshells, packaging and block packing are also accepted, but not packing peanuts.
Metals
Aluminum cans, steel/tin cans, empty and dry paint cans and empty aerosol cans are accepted.
Glass
Glass bottles and jars are accepted (caps/lids OK). All items must be rinsed.
Frequency
Long Beach recycles at the curb on a weekly basis — same day as refuse collection. Recycling carts must be placed at the curb by 7 a.m. on collection day, and must be at least 2 feet from obstructions (refuse cart, vehicles, utility poles, etc.). A recycling day lookup tool is available
online
.
Other programs
The City of Long Beach lists numerous collection points for batteries, used motor oil, cell phones, household hazardous waste, used medical sharps, old medication and other recyclables
here
. Long Beach residents can also request a curbside collection of used motor oil and filters by calling 1-800-RECYCL2. Requests must be made by 4 p.m. the business day before collection to ensure pick-up. Place used oil and filters 2 feet from the recycling cart at the curb.
More information
Visit the
City of Long Beach Residential Recycling Program website
for more recycling program info.