Background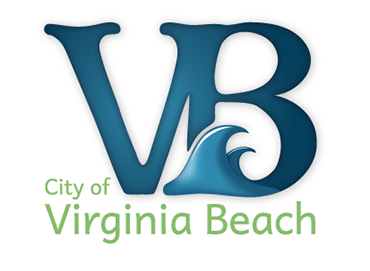 Virginia Beach (pop. 449,628) is Virginia's largest city, and is the primary city in the Hampton Roads (aka Tidewater) metro area, a region of 1.7 million residents that includes neighboring Norfolk, Newport News, Suffolk, Portsmouth and many other cities and towns. With nearly half-a-million residents and upwards of 2.75 million visitors a year, this oceanfront city is much more than a resort town. And, like much of Virginia, it continues to grow at a rapid rate, adding nearly 60,000 residents since 1990. Here, a curbside recycling program using blue roll carts services the city. Recycling is collected biweekly — perhaps surprising for a city this large — along with regular refuse pick-up. The city needs to see recycling rates continue to rise. Annually, it collects some 200,000 tons of waste, but only 35,000 tons of recyclables.
Materials recycled
Paper
Newspapers and inserts, office paper, junk mail, magazines, catalogs, phonebooks, paper bags and loose paper are accepted. Clean, dry, unwaxed, flattened cardboard and paperboard is also accepted.
Plastics
Plastic bottles (must have a neck or spout) are accepted. Plastic lids and caps are OK, but should be attached to the bottle.
Metals
Aluminum cans, steel/tin cans and aluminum foil are accepted.
Glass
Clear, brown and green glass bottles are accepted. No lids or caps.
Frequency
Virginia Beach recycles at the curb on a biweekly basis — same day as refuse collection. Recycling carts must be placed at the curb by 7 a.m. on collection day, and must be at least 3 feet from obstructions (refuse cart, vehicles, utility poles, etc.). A recycling day lookup tool is available
online
(far right side of the page).
Other programs
Virginia Beach is home to a number of public recycling drop-off centers that collect the above-listed materials:
Oceana, 229 First Colonial Rd. Open 24/7; also includes a household battery recycling box.
City Landfill and Resource Recovery Center, 1989 Jake Sear Rd. Open Tuesday through Saturday, from 7 a.m. to 4:30 p.m.; also includes a household battery recycling box.
Municipal Center, West Neck Road between Nimmo Parkway and North Landing Road. Open 24/7; also includes a household battery recycling box.
First Landing State Park, 2500 Shore Dr. (picnic area). Open daily, from 7 a.m. to dusk.
Princess Anne High School, 4400 Virginia Beach Blvd. (northwest parking lot on tennis court side). Open 24/7.
The
City Landfill and Resource Recovery Center
, listed above, collects a wide variety of materials and substances for safe recycling or recovery, including concrete, electronics, household hazardous waste, batteries, bulky metal items, oyster/clam shells, tires and woody yard debris. Yard debris pick-up is available for residents on regular curbside collection day. No appointment is needed. Limbs can be up to 4 feet long and 6 inches wide, piled into neat 4x4x4 piles. Other debris, such as grass clippings, leaves and brush, can be placed into tied clear plastic bags (each bag should not exceed 25 pounds).
More information
Visit the
City of Virginia Beach Department of Public Works website
for more recycling program info.