We all love our favorite highlighter, marker, pen or pencil, but after that last scribble or strike on your paper, it's out with the old and in with the new. Because we go through these items so often, it's a wonder there is not a better way to recycle our used highlighters, markers, pens and pencils. To help lessen our burden on the environment,
Paper Mate
and
Sharpie
teamed up with
TerraCycle
, a company that takes used waste and recycles into new products. TerraCycle says it technically recycles the "nonrecyclable"; these materials must be collected, sorted and processes differently than what some may consider "traditional" recyclable materials.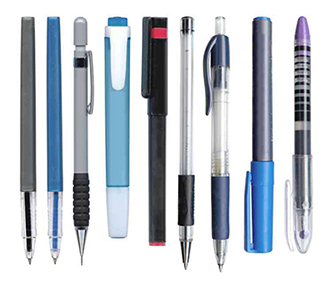 By sending your spent writing instruments to TerraCycle, your waste can avoid the nearest landfill or incinerator and instead produce new products made from collected garbage. In turn, TerraCycle believes this reduces the need to extract new materials from the planet and therefore lessens the environmental impact. So, how can you get started?
Signing up
with TerraCycle is completely free and quick and easy. There are no hidden fees, and the program covers the shipping, too. Once you have joined, collect enough writing instruments to fill up a box or bag, download a prepaid shipping label and ship the box back to TerraCycle by dropping it off at the nearest UPS location. For additional information on how to collect, store and ship these items, check out this
guide
and read through TerraCycle's
FAQs
. Acceptable waste items include pens and pen caps, mechanical pencils, markers and marker caps, permanent markers and permanent marker caps. But, what does TerraCycle do with these items? The company managed to make a
recycled plastic storage bin
. TerraCycle boasts about its versatile bin to store laundry, paper waste, toys, blankets, clothes and pretty much anything else you can think of. At press time, nearly 1.3 million writing instruments have been collected. If you are looking to recycle other materials beyond your writing instruments, TerraCycle offers a plethora of
"nonrecyclable" programs
to anyone in the continental US. From scotch tape to energy bar wrappers, TerraCycle is turning the nonrecyclable into useful recycled products for the home.