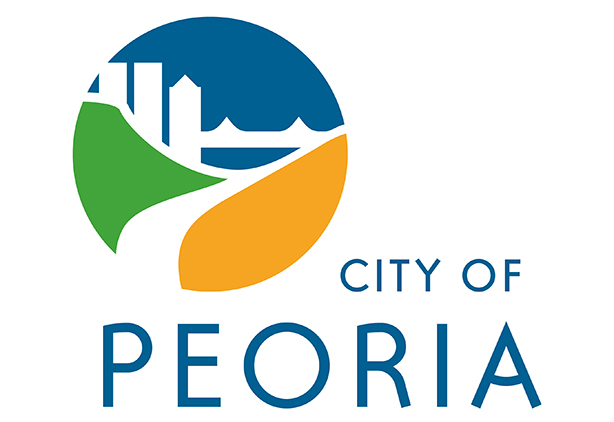 Background
Peoria, IL's (pop. 115,687) curbside recycling is serviced exclusively by local hauler Peoria Disposal Company. Widening the scope, surrounding Peoria County, which includes an additional 60,000 residents, offers a vast selection of drop-off recycling locations for area residents, especially when it comes to electronics, which are banned from landfills per Illinois state law. Currently, the single-stream collection service is once per month.
Materials recycled
Paper
Accepted items include office paper, notebook paper, computer paper, gift wrap, magazines, catalogs, phonebooks, paperboard, newspapers, junk mail, envelopes and paperback books. Corrugated cardboard is also accepted, and must be clean and flattened to fit the cart (no waxed cardboard).
Plastic
Plastic #1 clear and green bottles; Plastic #2 clear milk and juice jugs and colored detergent containers; Plastic #3 narrow-neck containers; Plastic #4 tubs, frozen dessert cups and six- or 12-pack rings; Plastic #5 containers and bottles; and Plastic #7 narrow-neck containers and buckets (5 gallon or smaller) are accepted. No plastic bags or Styrofoam products.
Metal
Aluminum and steel/tin cans (rinsed), clean aluminum foil and clean aluminum pie tins are accepted.
Glass
Clear, brown and green glass bottles and jars are accepted.
Frequency
Peoria recycles at the curb on a monthly basis. Recycling containers must be curbside by 6 a.m. on collection day. A collection schedule is available
online
.
Other programs
Peoria County's website offers an up-to-date listing of all
local recycling drop-off points
. The directory includes household recyclables as well as electronics, construction and demolition materials, household hazardous waste and much more. Textbook recycling is available at the end of the school year for schools and libraries in Peoria County. For more information and to schedule a collection time, call 309.353.3333 or email
rikki.wallace@midlanddavis.com
. Per Illinois state law, 17 types of electronic devices have been banned from landfills across the state.
Peoria County offers a list
of all items that must be diverted and local resources to handle obsolete electronics properly. Yard waste is collected at the curb from April 1 to November 30 each year on a weekly basis (same day as trash collection). Clearly marked containers ("YARD WASTE ONLY") sized 45 gallons or less, or 30-gallon paper yard waste bags are used. Grass, leaves, brush and tree limbs are accepted. These items can be bundled with rope or twine if less than 5 feet and 50 pounds. Yard waste must be curbside by 6 a.m. on collection day.
More information
Visit the
Peoria Disposal Company website
for more recycling program info.