Background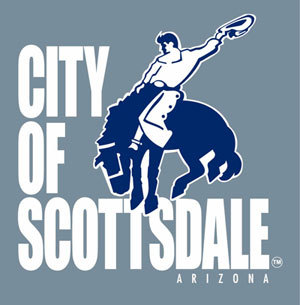 Most people know Scottsdale, AZ (pop. 223,514), for its resorts, spas and world-class golfing. But, in truth, "The West's Most Western Town" is a sprawling city (running 31 miles north to south) that is home to both a bustling downtown with dense surrounding neighborhoods as well as vast expanses of desert, particularly at its northern reaches. Thus, serving all of the city's residents with curbside recycling is not an easy task. Wyatt Earth, Scottsdale's mauve-colored roll cart-shaped recycling mascot, helps the city spread the word about recycling. Perhaps designed to fit in with Scottsdale's earth-toned desert landscape, the mauve roll carts are unique to the city, as opposed to the usual green or blue hues most cities select.
Materials recycled
Paper
Accepted items include newspapers and inserts, corrugated cardboard (folded or cut to fit in the cart; includes unsoiled portions of pizza boxes), paperboard, milk/juice cartons, ice cream cartons, magazines, catalogs, phonebooks, computer paper and writing paper (contained in a paper bag), paper cups, junk mail, paper bags and file folders. Shredded paper can be placed in a paper bag or a clear plastic bag in the cart.
Plastic
Plastic cups, bottles, tubs, jugs, jars, containers and clamshell takeout containers. No Styrofoam or plastic bags.
Metal
Aluminum and steel/tin cans (rinsed), clean aluminum foil and empty aerosol cans are accepted.
Glass
Clear, brown and green glass bottles and jars are accepted.
Frequency
Scottsdale recycles at the curb on a weekly basis (day may differ from refuse collection day). Recycling carts must be curbside by 5 a.m. on collection day. A collection map is available
online
.
Other programs
The City of Scottsdale holds regularly scheduled e-waste collection events at the Solid Waste Management facility at 9191 E. San Salvador Dr. Residents can drop off computers, printers, keyboards, scanners, mice, monitors, circuit boards, hard drives, phones, answering machines, pagers, typewriters, calculators, cameras, TVs, video recorders, DVD players and stereo equipment to be responsibly recycled. Visit the
city's website
for the next scheduled date. Likewise, household hazardous waste is collected on specially designated drop-off days at the Sold Waste Management facility. Accepted items include photo chemicals, automotive fluids, household cleaners, pool chemicals, solvents, thinners, paints, stains, varnishes, household batteries and automotive batteries. Visit the
city's website
for the next upcoming collection event. The
Salt River Landfill
, located at 13602 E. Beeline Hwy., also collects and recycles old electronics. Most items may be dropped off for free, but some fees may apply for larger items or mixed loads.
More information
Visit the
City of Scottsdale Curbside Recycling Guidelines website
for more recycling program info.