Background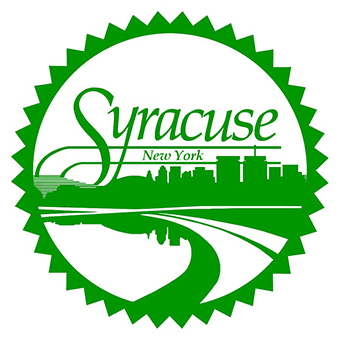 The Syracuse, NY (pop. 145,170), area recycles approximately 80 million pounds of materials annually. Surrounding Onondaga County, which is home to nearly half-a-million residents, services the city's curbside recycling collection with weekly emptying of commingled blue bins. The county's per-capita recycling rate is second to none in New York State, as recycling is mandatory throughout the county. Though the curbside program is relatively simple in its collection rules and acceptable materials, the Onondaga County Resource Recovery Agency, which oversees waste and refuse collection countywide, offers a great variety of resources to help residents cut waste out of their everyday lives.
Materials recycled
Paper
Accepted items include newspapers and inserts, magazines, catalogs, paperback books, flattened corrugated cardboard, flattened paperboard, clean and flattened pizza boxes, office paper, writing paper, envelopes and junk mail.
Plastic
Plastic #1 and #2 bottles (rinsed; discard caps) and #5 plastic tubs (rinsed; discard lids) are accepted.
Metal
Aluminum and steel/tin cans (rinsed) are accepted.
Glass
Clear, brown and green glass bottles and jars are accepted.
Frequency
Syracuse recycles at the curb on a weekly basis, same day as refuse collection. Recycling containers can be placed curbside no earlier than 8 p.m. the evening prior to collection and no later than 6 a.m. on collection day. Contact
Syracuse-area haulers
for the most up-to-date collection schedules.
Other programs
Onondaga County is home to two drop-off recycling facilities that are close to Syracuse. The
Ley Creek Drop-Off Site
(5158 Ley Creek Dr. in nearby Liverpool) accepts recyclables, municipal solid waste items and construction and demolition materials (fees apply), and is open to the public on the second and fourth Saturdays of the month, from 8 a.m. to noon. The
Rock Cut Road Drop-Off Site
(5808 Rock Cut Rd. in nearby Jamestown) specializes in residential and small business waste items (fees apply), and is open to the public Tuesday through Saturday, from 7 a.m. to 2:30 p.m. The OCRRA offers its residents local solutions for safe disposal of their
hazardous waste items
, including batteries, electronics, light bulbs, thermometers, thermostats and toxic chemicals.
More information
Visit the
Onondaga County Resource Recovery Agency website
for more recycling program info.