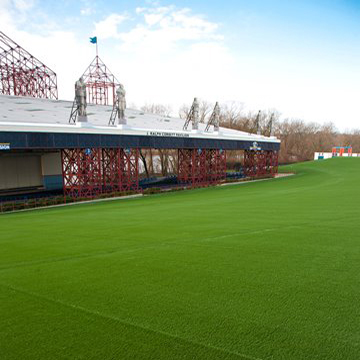 Hoping to bring the hottest touring summer concerts to the city of
Cincinnati
, the
Riverbend Music Center
provides a beautiful amphitheater setting on the banks of the Ohio River for attendees to catch the hottest touring acts. With the Riverbend's
installation of recycled artificial grass in 2012
, the amphitheater will continue its commitment to spectators for many more years to come. The Riverbend Music Center opened July 4, 1984, with a cost of approximately $9 million and a seating capacity of 20,500. With an upcoming summer schedule of big-name performers like Jimmy Buffet, Keith Urban, Dave Matthews Band, OneRepublic and other globe-trotting artists, the Riverbend Music Center has become a Midwestern fixture on every top-flight summer tour itinerary. To ensure this tradition continues while reducing the amphitheater's carbon footprint, Riverbend appointed a new recycled synthetic turf across its grounds — the world's first of its size. Installed over the course of 10 weeks with the late donor Patricia Corbett's funds, Riverbend was able to pay for the state-the-art technology covering 2.75 acres for a cost of $750,000. With this recycled turf, Riverbend will save more than $90,000 annually on fertilizers, pesticides, weed killers, gas-powered lawn mowers and water fees. Beyond the environmental and financial benefits, the new lawn will only amp up the fun for people who like to sit, stand or dance on this 120,000 square feet of nonflammable plastic turf. The system installed is equipped with a top layer made up of densely packed 2-inch blades of nonflammable plastic grass, a height shorter than a typical lawn trim. The lawn's makeup is similar to carpet, which is sewn together and anchored by evenly spaced spikes. Unlike earlier models of artificial turf, this synthetic grass is completely made of recyclable materials. Because the turf can get a little too hot in the summer heat, Riverbend installed a mist system to keep the turf cool. The amphitheater hopes to act as a model for other amphitheaters around the world to think more critically about installing system like its own. Since installation, there has been a 10% increase in ticket sales on the lawn, which is estimated to have a lifespan of about 10 years. Riverbend considers this to be not only a great business decision, but also a chance to make an sustainable decision that offers comfort for many concert fans to enjoy.
Summer Concerts: Riverbend Music Center
Summer concert highlights at the Riverbend Music Center include: Sunday, June 15:
Backstreet Boys with Avril Lavigne
Friday, June 20:
Brad Paisley
Sunday, June 22:
Lionel Richie with CeeLo Green
Wednesday, June 25:
Journey with Steve Miller Band
Sunday, June 29:
Tim McGraw
Sunday, July 6:
Mötley Crüe with Alice Cooper
Wednesday, July 9:
Dave Matthews Band
Tuesday, July 15:
KISS and Def Leppard
Monday, July 21:
Jimmy Buffett
Thursday, July 31:
Keith Urban
Tuesday, August 5:
OneRepublic
Friday, August 22:
Kings of Leon
The Riverbend Music Center is located at 6295 Kellogg Ave. in Cincinnati.