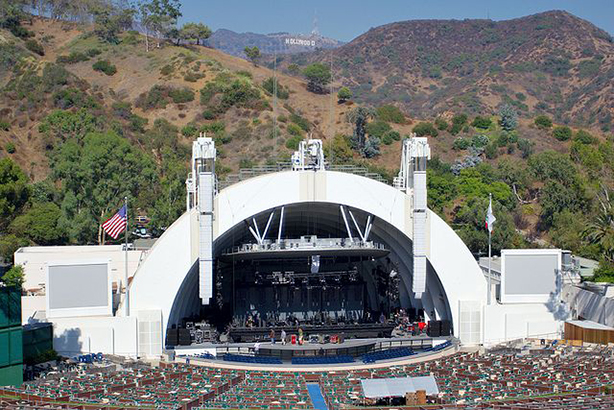 The
Hollywood Bowl
's summer concert season began in May, and while it's time to prepare for a summer full of the hottest outdoor performances, the amphitheater is taking action to make this its most environmentally conscientious summer concert season yet. Since more than 1 million people visit picturesque amphitheater nestled in
Los Angeles
' Hollywood Hills every year,
conservation programs
the Bowl implements can make a major difference. Here are just a few on tap for this season:
With limited parking space, the Bowl is teaming up with LA's Metropolitan Transportation Authority to give attendees an easy public transportation option, which takes them to the event. On the other hand, if visitors choose to travel to the venue by bike — admittedly a tough job if traveling uphill — they will receive the benefit of free parking.
The Bowl focuses on reusing any possible materials on the venue grounds to assist in its commitment to be green. There are recycling bins located throughout the grounds, and the staff works to go through waste bins to make sure as few recyclables are mixed with other waste as possible.
Since 2007, the Bowl has housed waterless urinals and water-reducing toilets to help cut the use of water at the venue. Next to this, the Bowl also uses an irrigation system that tracks rainfall around the venue and irrigates accordingly. Therefore, the grounds are not watered unless it is acceptable and necessary.
To try to keep water as little affected by airborne pollutants as possible, there are stainless steel grates fixed at water intakes and special filters installed to clean the water used for irrigation.
The Bowl, which opened in 1922, has also been certified as an Audubon Cooperative Sanctuary because of its environmental plan to keep the venue as natural as possible to help the animal and plant species who live nearby feel at home. Since the Hollywood Bowl is located in such a natural setting, being environmentally conscientious is important for the owners, staff and attendees of the venue. If they continue to work on and promote various eco-friendly programs, the Bowl can continue to preserve the natural beauty it has had for nearly a century.
Summer Concerts: Hollywood Bowl
Summer concert highlights at the Hollywood Bowl include: Sunday, June 22:
Janelle Monaé
Wednesday-Friday, July 2, 3, 4:
Steve Martin and the Los Angeles Philharmonic
Friday-Saturday, July 18, 19:
DreamWorks Animation in Concert
Friday-Saturday, August 8, 9:
Gladys Knight and Kool & the Gang
Sunday, August 10:
Glen Hansard, The Head & the Heart, Iron & Wine
Wednesday, August 20:
Marvin Gaye's What's Going On with John Legend
Friday-Saturday, September 5, 6:
Elvis Costello and Ben Folds with the Los Angeles Philharmonic
Sunday, September 28:
Pixies with Gogol Bordello and Cat Power
The Hollywood Bowl is located at 2301 N. Hyland Ave. in Los Angeles.