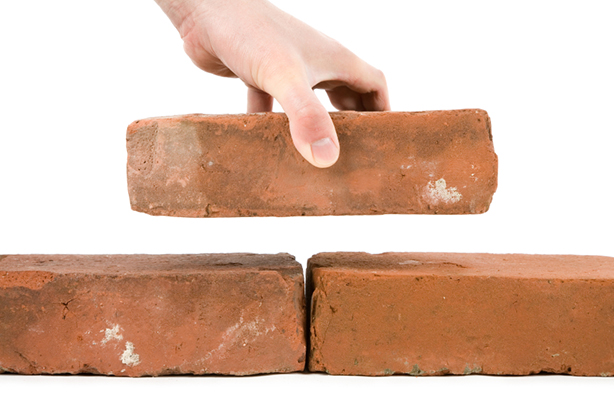 Are you taking down an old brick fireplace? Or, digging up a garden path? Finding a good place to recycle bricks can be tricky. Bricks fall into a category known as "construction and demolition" (or C&D) waste. For years, the only place that would take construction waste was the local landfill. Then solid waste management companies started to get smart about how much space bricks, concrete and other construction debris took up. Not only are demolition materials heavy and bulky, but there are also a lot of them out there. A
2008 study conducted in California
discovered that construction waste makes up 29% of the state's total waste stream. Many communities now have facilities that handle C&D waste, but they tend to be geared more toward contractors than homeowners. In addition, not all of them recycle the materials they receive. Instead, they take items to special C&D landfills that are reserved solely for demolition waste. If your community has a good C&D recycler, count yourself as lucky. If not, you may need to pursue an option for reusing your bricks.
What are bricks?
Traditionally, bricks were made of clay. They were formed by hand and left to dry in the sun or fired in a kiln. Once the blocks of clay were ready, they could be stacked together and secured in place with mortar. The earliest known bricks were found in the Middle East and are around 7,000 years old. Today, bricks are more likely to be made of shale, a lightweight rock that is easy to break apart and form into other things. Machines, rather than humans, handle the shaping and the drying. Given their nice appearance and durability (bricks are good insulators, pest resistant and fireproof), bricks remain a very popular construction material. Bricks can also constructed out of concrete, a blend of calcium and silicone (which produces a light-colored brick flecked with sparkly bits of stone), or the more traditionally clay. To learn more about how bricks are made, check out this interesting video from the Discovery Channel.
Why should bricks be recycled?
Mining shale and other virgin materials required to make bricks is costly and bad for the environment. If that material can be put back to use, it will cut down on mining, which is a win for the environment. C&D materials take up an enormous amount of space in landfills. Keeping them out conserves space and prevents more landfills (or incinerators) from being built. If you need another reason to recycle bricks instead of throwing them away, how about this: If your local waste transfer station charges by the ton, you could be looking at a lot of money to dispose of a load. The better option is to find some place that will take your bricks for free — or even pay you for them.
Put bricks back to use
Yes, there are salvage companies that will pay people for used bricks. Some customers like the shabby-chic appearance of old blocks or may want bricks that match a structure built many years ago. Vintage Brick Salvage in Rockford, IL, and Experienced Brick & Stone in Amherst, NY, are a few examples of companies that buy bricks. Places that sell used building materials, such as
Habitat for Humanity ReStores
, may also want used bricks. Check with your local nonprofit to find out their guidelines. Bricks can always be repurposed for outdoor projects. Use them to build a planter box or a wall in the garden. If nothing else, keep a couple around for doorstops.
How to recycle bricks
Your recycled brick can be crushed and used for a number of different applications. Companies often purchase it instead of aggregate (such as gravel) for construction projects. Bricks can be chipped and used in landscapes. Like the parent material, the chips look nice and will hold up well even in very cold, windy or rainy climates. If the bricks are broken down to a very fine material they can be used in place of sand or even go into new bricks. Sioux City Brick in Iowa makes a fine brick powder that can be used in baseball diamonds or running tracks. If your only option is to recycle bricks, use 1-800-RECYCLING's
recycling search tool
to find a recycler near you. It is possible your community recycling center will accept and recycle bricks; the one in
Eugene, OR
, does. If not, your solid waste agency may have a list of places you can take bricks and other construction materials. That is the case in
Baltimore
and some other major cities. If you community has a bulky waste pickup programs, see if they will take construction materials and if they recycle them or simply landfill them. Program regulations vary widely;
Miami
residents can leave up to a cubic yard of construction materials at the curb for pickup, whereas those living in Chandler, AZ, are prohibited from putting construction materials out for haulers.