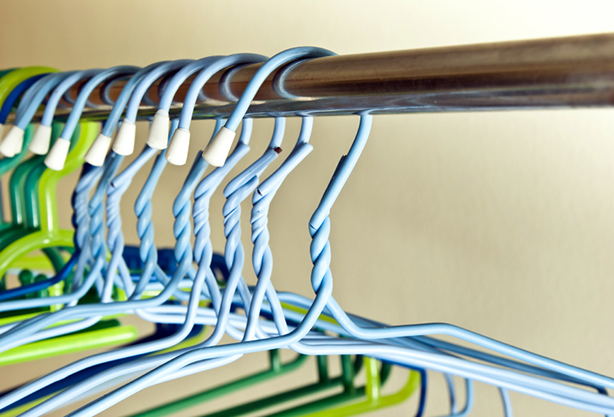 Hangers were first invented in the mid-1800s as a way to store women's delicate bustles and skirts. By the early 1900s, they were more widely used for men's and women's clothing and accessories alike. Today, they are an indispensible item found in homes all over the world. Hangers can be made of several different materials. The most popular material for hangers today is plastic, but there are still plenty of wire and wood hangers out there as well (in fact, those might be the ones you wish to dispose of since they have fallen out of favor). The bad news is that not all hangers are recyclable. However, hangers that are in good shape can be reused, either for their intended purpose or by industrious artists and crafters.
How to recycle wire hangers
Wire hangers are made from steel and have a thin plastic coating to keep them from rusting. Some
recycling centers
will take them, no questions asked. However, some recycling centers have policies prohibiting hangers because the curved ends can get stuck in sorting and recycling equipment. Check with your local solid waste district before you bundle your metal hangers together and take them to a recycling center. If you are lucky enough to live somewhere like New York City or Riverside, CA, you can put metal hangers in your curbside recycling bin, but those programs are the exception to the rule. It is best to remove any paper, lightweight cardboard, foam or yarn wrapped around the hangers before recycling them. The paper can be recycled. However, chances are good that the foam and the yarn cannot be recycled. The top suppliers of wire hangers are dry cleaners, which use them for storing items of clothing before returning them to their owners. Many dry cleaners will take metal hangers back and reuse them. Ask about that (and the plastic bags most dry cleaners use to cover clothes) the next time you pick up garments. Or, simply leave the hangers at the store when you pick up your clothes (if you are picking up lots of items, consider bringing your own hangers and a garment bag).
How to recycle plastic hangers
There are a couple of kinds of plastic hangers. There are the purely plastic hangers, available in a rainbow of colors, that you can pick up at any drug store. Then, there is the kind used to hang clothes in retail stores, which are a combination of plastic and metal. It is very difficult to know what type of plastic different hangers are made of, making them nearly impossible to recycle. You can, however, practice the other two "R's" with plastic hangers: reduce and reuse. If a store clerk offers to let you take hangers home with you, say no. The store can put them back to use (a bonus for them because they do not have to buy new ones). Many thrift stores bundle plastic hangers together and sell them. They can also use donated hangers to hang clothes they sell in their stores. See if your local thrift store is interested in your old plastic hangers.
How to recycle wood hangers
Wood hangers are also not recyclable. The wood is treated with varnish or other types of finish, resulting in a nonrecyclable product (see article "
How to Recycle Wood
" for more information on wood recycling). However, most wood hangers have small pieces of metal attached. If you can remove those, go ahead and mix those in with your scrap metal recycling. Wood hangers are best suited for coats, so consider donating unwanted ones to charities with lots of jackets to store and give away. Your local rescue mission or health and human services office are two places to check with first. Or, you can see if your community has a chapter of
Dress for Success
, which gives suits to people who need them for job interviews.
Hangers as art?
Scottish artist
David Mach
uses wire hangers in many of his sculptures. Hundreds of white pieces of metal protrude from his white sculptures of animals and humans, giving them a surreal, spiky appearance. A 2012 exhibit called "Precious Light" at the Galway Arts Festival in Ireland featured enormous sculptures of biblical images adorned with coat hangers. Hangers can be used to store items around the house besides clothes. Hang accessories like belts, necklaces and scarves from them. Wood pants hangers are nice hung on the wall with artwork clipped into them. Open up a wire hanger, thread spools of ribbon on it, put it back together and stick it in your craft or wrapping room. Wire hangers can also come in handy for craft projects. After all, if you unbend them, they are basically heavy-gauge wire with a light plastic coating. Bent into different shapes they can make garden art, butterfly or fairy wings for children, plate hangers and light fixtures. Or, if you feel like a project, a couple intrepid DIYers on Pinterest give instructions for
turning old wire hangers into shoe racks
.