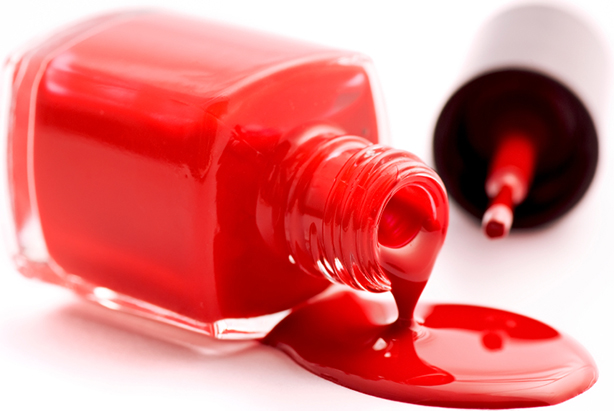 The time for pedicures has arrived, and a nice manicure never goes out of season. But, when you pull out your bottles of nail polish, do you discover colors that are no longer in style or jars that are so old the polish is unusable? Rather than tossing those bottles in the trash, give serious thought to finding a place to recycle them. For one thing, nail polish is considered household hazardous waste in most states, meaning it is illegal to put it in the trash. For another reason, nail polish is full of toxic chemicals that can make their way into waterways or affect air quality if burned in an incinerator. We share some tips for finding recycling locations, putting old nail polish to use for other purposes, and cutting down on your polish's toxicity.
What is nail polish made of?
According to the
University of California – Santa Barbara's ScienceLine website
, nail polish includes three main components: hardening or thickening agents (a combination of common plastics like polyester and polyurethane and something called nitrocellulose), solvents (different kinds of acetate, which is also the main ingredient in nail polish remover) and pigments that create the color. Those pigments can be dyes like Red #7, or they can be compounds like mica and aluminum powder that have a glittery or pearlescent appearance. Some nail polish brands also contain a number of chemicals that are harmful to human and animal health. The three most talked-about are toluene, which helps polish go on smoothly and stick to fingernails; formaldehyde, which helps the polish harden; and dibutyl phthalate, which prevents polish from becoming brittle once it is applied to your fingers or toes. Toluene and formaldehyde are both known carcinogens. Dibutyl phthalate, like BPA plastic, is considered an endocrine disruptor, which means it disrupts hormone function and can affect fertility. The harmful chemicals described above should not be released into the environment, even in very small quantities. In addition, they are flammable, which can create serious problems for waste haulers. That is why fingernail polish is considered household hazardous waste and must be disposed of properly.
Pick a polish with fewer chemicals
The first thing you can do to lower your chances of releasing dangerous toxins into the environment is buy nail polish that does not contain these harmful chemicals. The website
EcoWatch
shares information about seven brands that do not put toluene, formaldehyde, dibutyl phthalate or other harmful chemicals in their nail polish. (The nail polish will still be flammable, however, and still must be treated as household hazardous waste when it comes time for disposal.) These brands tend to be more expensive, but that may lead to a second way to decrease your nail polish footprint: do not buy as much of it. One or two colors for each season, plus a good top and base coat, is really all you need. If you buy less, you are more likely to use up all the polish in the bottle and you will throw less of it away.
Where can I recycle nail polish?
There are companies that recycle nail polish. One example is
Chemwise
, which offers a mail-in program for your old bottles of nail polish. Chemwise guarantees to recycle everything, including the polish bottles and brushes. However, you must purchase a recycling kit at a cost of $78.73, so unless you have a lot of friends who want to pitch in and recycle their old polish, this amount may be prohibitive. If your community has an eco-friendly salon, you might want to give it a call and see if it uses Chemwise's program. If it does, ask if you can sneak a couple of bottles into its bucket. If you simply want to dispose of your nail polish safely, every county should have a household hazardous waste center. Call ahead or visit the nearest facility's website to see when it is open (or if it has any special collection days coming up) and what, if any, fees are tied to drop-off. In San Mateo County, CA, the facility is only open on Fridays, Saturdays and Sundays. In Lee's Summit, MO, you have to schedule an appointment to drop off household hazardous waste. So, do some investigating to find the particulars in your area.
Ideas for reusing nail polish
Nail polish can be used for things besides prettying up your fingernails. Clear nail polish is great for stopping runs in nylons, making needles easier to thread or keeping shoelaces from unraveling. A coat of clear nail polish on handwritten plant labels for the garden will stop the ink from running if it rains. Colored nail polish can be used to color code items in your home, differentiate keys so you can more easily pick out the correct one on a full keychain, or color in scuffs on shoes. The fashion magazine
Cosmopolitan
even suggests using red nail polish to paint the bottoms of high heels, giving you a faux-Christian Louboutin look.