Background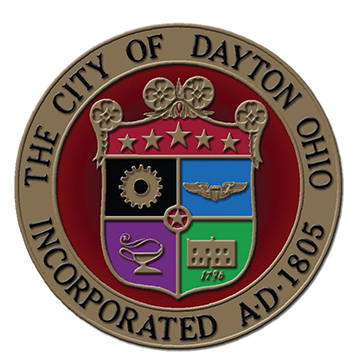 Dayton, OH (pop. 141,359) has set a reasonable goal to recycle 1,000 tons per month. At press time, the city recycles nearly 600 tons a month, so there is plenty of room for program growth. Though Dayton is Ohio's sixth-largest city, it is the center of a metro area of 1.1 million residents. Surrounding Montgomery County offers residents a number of drop-off and community event solutions to help inch towards the recycling goal. In Dayton, participation in curbside recycling is free, including the recycling containers themselves, and residents can choose between the rolling 96-gallon "Big Bin" or 32-gallon "Lil' Bin."
Materials recycled
Paper
Accepted items include newspapers and inserts, magazines, catalogs, phonebooks, office paper, junk mail, paperboard, flyers, envelopes, brown paper bags, corrugated cardboard (including unsoiled portions of pizza boxes) and waxed beverage cartons (rinsed).
Plastic
All plastic bottles and containers accepted (rinsed; no lids or caps).
Metal
Aluminum and steel/tin cans (rinsed), and empty aerosol cans are accepted.
Glass
Clear, brown, blue and green glass bottles and jars are accepted (rinsed).
Frequency
Dayton recycles at the curb on a weekly basis. Recycling bins must be curbside by 7 a.m. on collection day and should be 5 feet from any obstructions. A collection map is available
online
.
Other programs
Surrounding Montgomery County provides two transfer stations for residents to regularly drop off household hazardous waste items: North Transfer at 6589 Old Webster St. in Vandalia (Tuesdays, from 8 a.m. to 2 p.m.) and South Transfer at 1001 Encrete Ln. in Dayton (Saturdays, from 8 a.m. to 2 p.m.). Accepted items include household batteries, automotive batteries, fire extinguishers, propane tanks, fertilizers, heavy metals, household cleaners, mineral spirits, paint, pesticides, herbicides, photo chemicals, pool chemicals, thinners, strippers, varnishes, stains and automotive fluids. Proof of residency is required. Both of the above transfer stations are also open to county residents to drop off any of the recyclables listed in the curbside recycling section. Montgomery County holds small business electronics drop-off events and appliance collection events on a regular basis. Check the
online calendar of events
for up-to-date information.
More information
Visit the
City of Dayton Recycling website
for more recycling program info.