I am finding more products every day that are made using recycled materials, which is great. The problem is many of those items, when they come to the end of their useful life, are not easily recycled. Gary Gagnon, the inventor of
ReKixx
(formerly known as Remyxx), came up with the idea to make 100% recyclable shoes.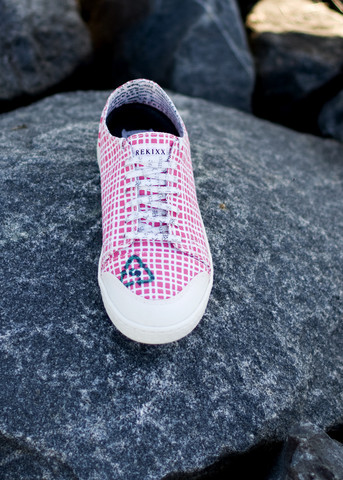 According to the charitable organization,
Soles4Souls
, last year alone more than 700,000 tons of footwear and apparel were thrown away in the U.S. As these products break down in our landfills, the toxic chemicals in some of the materials in their makeup can leach into our soil and water supply. So, making shoes that can be recycled can be a great help to our planet. The inspiration for ReKixx came to Gagnon back in 2009 when, while taking out the garbage, he noticed several pairs of his family's old shoes in the trashcan. He thought, "Wouldn't it be nice if we could recycle our sneakers instead of throwing them in the trash." And so it began. Gagnon knew that he not only had to make a shoe that could be completely recycled, but he would also need to create the infrastructure that would get the shoes recycled. During Gagnon's journey to make his recyclable shoes a reality, he went on the entrepreneurial ABC show
Shark Tank
on May 18, 2012. For those of you who have not heard of
Shark Tank
, it is a reality competition that features a panel of possible investors called "sharks" who consider offers from hopeful entrepreneurs seeking funds for their product or business. Obviously, being on a reality TV show can really help an entrepreneur gain exposure and get investors. The problem was Gagnon's shoes were still on the drawing board and he didn't have any sales to show the "sharks." But, he did manage to win over Daymond John, who made a deal on the show for Gagnon to give up 80% of his company in exchange for a $50,000 stake. During further negotiations after the show aired, John and Gagnon decided not to complete the deal, but John helped the process by giving invaluable advice and mentorship to Gagnon. Gagnon took advantage of the buzz created from being on
Shark Tank
and began a Kickstarter campaign. Kickstarter is a crowdfunding platform, or way to solicit online funding from a "crowd" of people. The company's stated mission is to help bring creative projects to life. (As a side note, I'm reasonably certain my sister, Heidi, has successfully funded half of the Kickstarter campaigns in existence.) On June 25, 2012 the Remyxx campaign ended successfully with pledges totaling more than $44,000 to kick-start the Remyxx Shoe Company. Soon after the profitable crowdfunding campaign, the company name was changed from Remyxx to ReKixx. By September 2013, there were 1,000+ pairs of ReKixx on people's feet.
About the shoes
ReKixx shoes look and feel like they are made of canvas and rubber, but they are actually manufactured using a special blend of lab-certified 100% recyclable materials. When Gagnon was figuring out how to make his shoes recyclable, he spent time investigating what makes most shoes nonrecyclable and learned that some sneakers contain more than 100 different materials. ReKixx shoes are constructed from a mix of polyresin materials. The top portion looks like canvas; the sole like rubber. According to the ReKixx site, "It is with our unique mix of materials and proprietary construction, that all parts together, of your worn and beaten ReKixx sneakers, can be recycled or 'ReKixx-ed' to make new products and materials, including a new pair of ReKixx."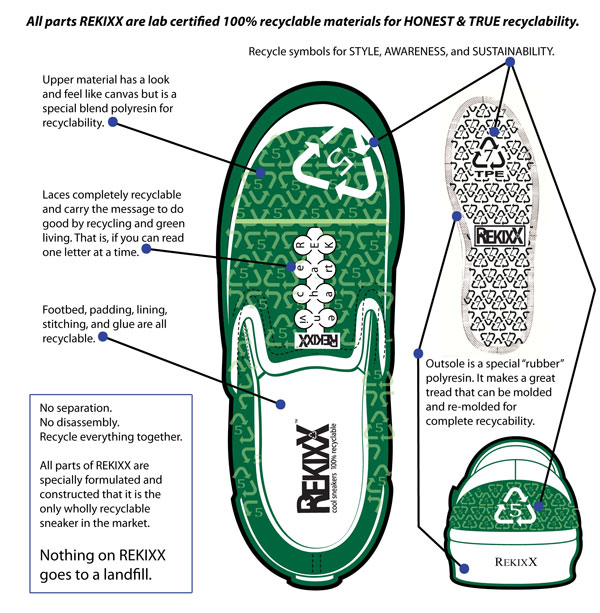 And, just as important, the shoes look very cool. Each design has a fun fabric and the universal recycling symbol for its resin type "5" on them. The style is reminiscent of Chuck Taylors, but with an environmental twist. There are currently six styles to choose from: Signature Green, Pink Plaid, Message in Black, Blue Wash Stripe, Convertible Black and Retro White. I can't decide between the Pink Plaid or the Blue Wash Stripe myself. (Although, I would be happy with any of the styles — they are that awesome.) To see photos of the styles for yourself, visit the
ReKixx website
. The company guarantees that you can send your used ReKixx sneakers back to them and they will recycle everything from the laces to the soles. The company is hoping as to continue to educate and initiate improvements in recycling. Someday, we will be able to put our worn ReKixx sneakers directly into our curbside recycling bin just like many of us currently do with our #1 plastic bottles and our #5 plastic yogurt cups. In the future, Gagnon hopes to partner with retailers who could have collection bins in their stores. But, for now, you can send your ReKixx back to the company with your email address and receive a special discount on your next ReKixx purchase. Here's the address: ReKixx 10616 Knight Castle Drive Charlotte, NC 28277 Attn: Recycling Program
For more information, visit rekixx.com. For the good of your feet, for the good of the planet … reduce, reuse, ReKixx