Lighting is one of the most noticeable things in your home. In fact, it is a necessity. Although any light fixture will do, it is good to have something that reflects your personal style. Here are some examples of some creatively crafted lamps.
1. Paint roller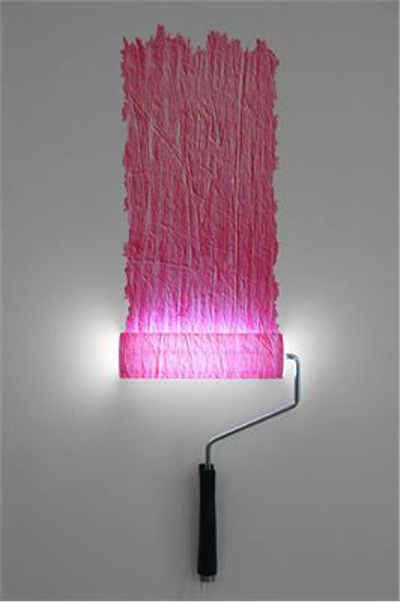 In the U.K., Natalie Sampson has created a name for herself by creating original lamps and tables out of upcycled or reclaimed objects. This paint roller lamp uses LED lighting and what appears to be vinyl to create something extremely eye catching. This lamp would look great in a teenager's bedroom, a modern living area or a trendy office.
2. Book lantern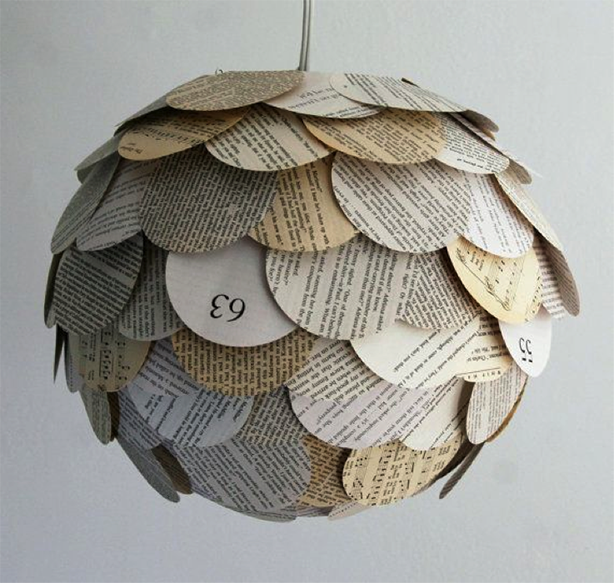 The ladies at Zipper8Lighting have made the perfect lamp for bibliophiles everywhere. This lamp is made from a round paper shade and three different colors of pages from aged, upcycled books. It would look good nearly anywhere in the house, but especially in a public or home library. This effect can be created using other colors as well. It can be made from the pages of children's books, old maps or even botanical pictures. The design is only limited to the books that have been printed.
3. Book chandelier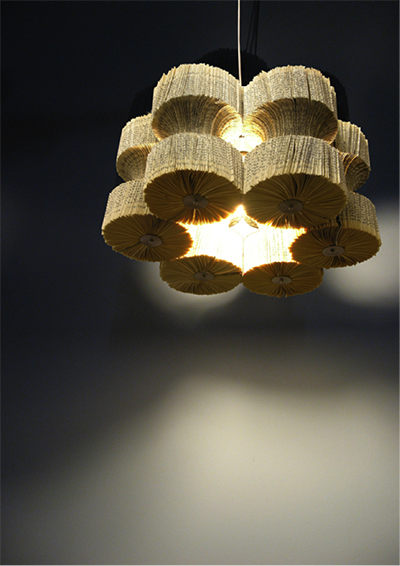 Used paperback books are some of the hardest things to recycle. The paper is low grade, and the glue has to be removed from the spine beforehand. London-based Lula Dot has come up with a beautiful way to recycle these books and to show off their beauty in the process. According to Lula Dot, each page is folded in half, which causes a wonderful density, and full effect, on the cylinders.
4. Skateboard light
This overhead or sconce fixture is a great way to use something you have laying around to create something stunning and useful. This is a wonderful way to preserve an old board that has sentimental value. This would not only look great in a teen's bedroom, an industrial apartment or a game room, but also in a funky office setting.
5. Clothespin lamp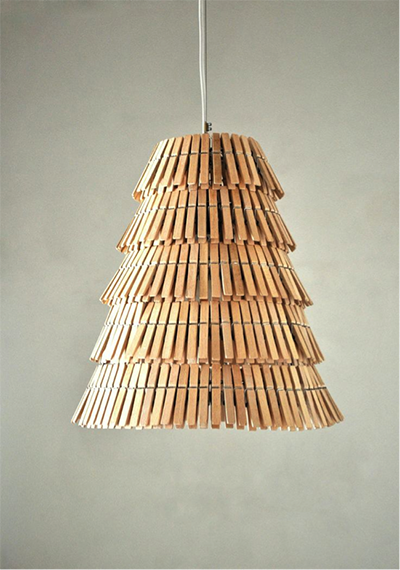 Used clothespins can be found at most thrift stores or raided from your grandmother's laundry room. Here they take metal lampshade forms and clothespins to fashion them into a lamp that would go well with nearly any internal décor. Once lit, the light seeps gently between the pins and creates a warm glow, similar to a fireplace. This one definitely earns creativity, repurposing and ambiance points.
6. Coke bottle lamp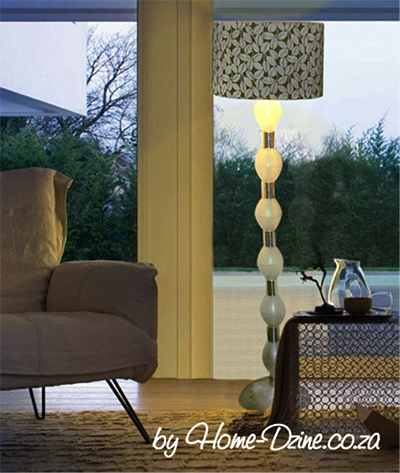 One look at this lamp and you would have never guessed that the main components were used soda bottles. Old cardboard tubing and PVC pipe were also used when forming this functional artwork. The team at Home-Dzine have put together a wonderful tutorial on how to assemble this elegant lamp in your home or office. Thinking further outside the box, you could use colored bottles or even paint them for effect. Maybe make it shorter for a table lamp or play around with the base design on the bottom. It is a unique and versatile idea to play with.
7. Book lamp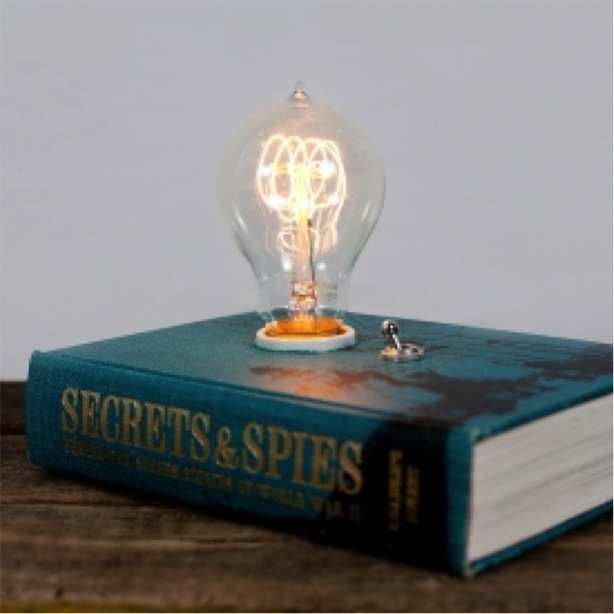 The team at Typewriter Boneyard specializes in taking older books and turning them into not just lamps, but works of art. This would look great in an office setting, a modern living room or in the flat of any hipster. With the different colors of hardback books, test out different types and different bulbs — it will not be hard to find something to work into your current décor.
8. Lego lamp

If ever there was a lamp that spoke to your inner 5-year-old, this would be it. A large Lego board acts as the base, and then the blocks were assembled at the builder's discretion. The way the light flows through the bricks is unique, but the real conversation starter is what it is made out of. This would be a great family project to try out on a rainy day as well.
9. Pipe fixture lamp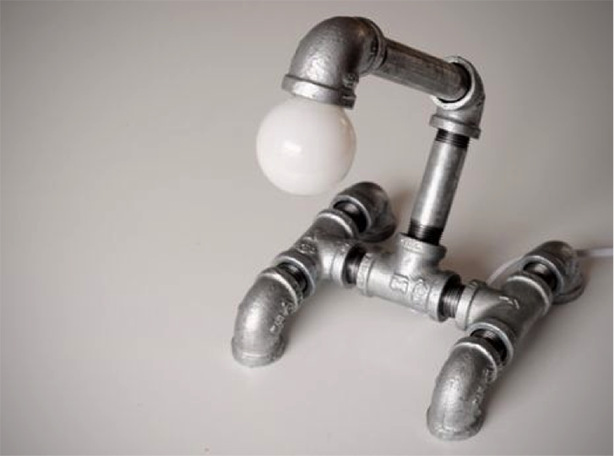 Using pipefittings, this industrially designed pipe fixture lamp is simple yet striking. While this would look great on a desktop, it could easily be modified as a floor lamp as well. The pipes could also be painted in both the same or contrasting colors, and a number of coordinating lampshades could be used for a floor lamp option.
10. Sleeping under the stars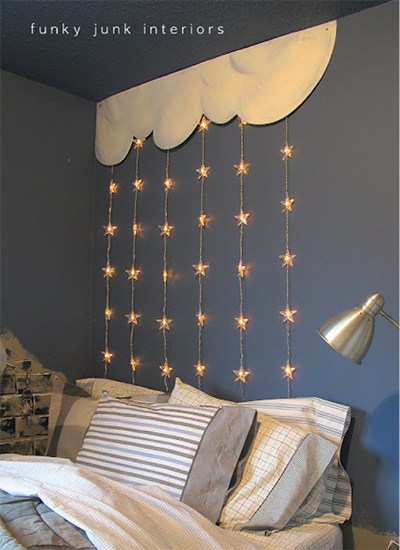 When Donna at Funky Junk Interiors completed an overhaul of her son's bedroom, she wanted him to have the illusion of being outside. By taking a scrap of wall paneling, painting clouds on the backside as a valance and then using some upcycled party lights, she achieved just that. The entire process of creating the valance took under 30 minutes. Since it was made from materials she had left over from other projects, the cost for the valance was free. Further proof that great ideas do not have to be expensive.
11. Junky upgrade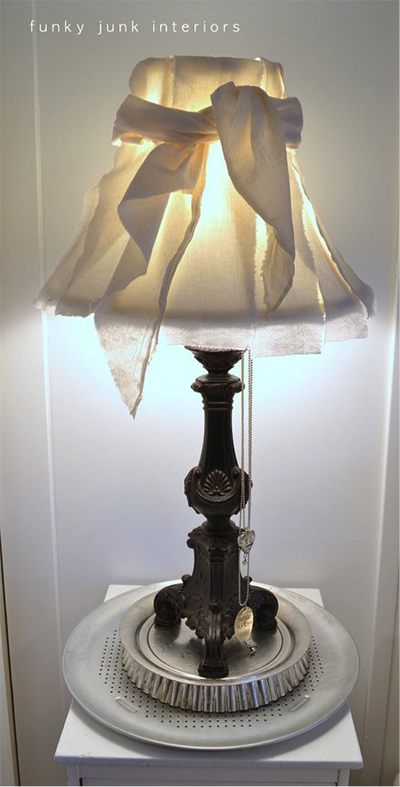 By taking strips of cotton fabric and draping them over the shade, the lamp now gives off a soft glow at night. This lamp is beautiful and adds a wonderful ambience to any room. This lamp was completed by adding some necklaces to the lamp itself and some scrap metal for the base. These are fine examples of how you can take any old object, sprinkle in some creativity, and come up with something extraordinary.
All images used are copyrighted and used with permission of the photographers/artists.