We've all been there: Figuring out how to dispose of old items is a daily struggle. To sympathize with some your frustrations, let me dissect my own recycling curbside program in
Columbus, OH
. As the local
RecyColumbus
program puts it, "This is one recycling program designed show our pride and excitement in being part of a greener community." Living in the heart of "the 614," all recyclers must be city of Columbus residents, live in a single-family house or a building with four units of less, or live in complex currently uses only 90- to 300-gallon trash containers. For those who happen to make it past this cut, RecyColumbus provides participants with a 64-gallon cart to toss all of their recyclables in the right place. It's a program that works, too. In 2013, some 40,000 tons of Columbus' materials were diverted from landfills.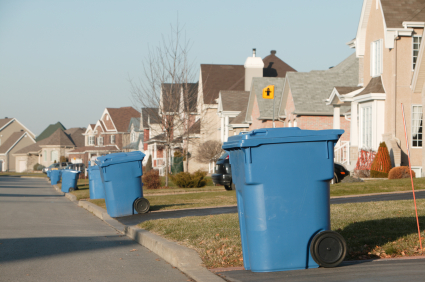 Like many other programs, RecyColumbus takes aluminum, cardboard, plastic bottles and jars, newspaper, magazines, paper-based food boxes, glass bottles and cartons. Although these accepted items might seem fine and dandy, there are a few items that I particularly wish were more convenient to recycle, like plastic bags and electronics. I, for one, try to always remember to bring my reusable bags to the grocery store. However, every now and then, my green items do not make the trip and before I know it I am faced with bagging my items in multiple plastic bags. Sure, I can reuse these bags a few times and save them when I can, but sooner or later, this is one item that always ends up in the trash. Trying to find a place that takes plastic bags is an endeavor that requires a drive across the greater Columbus area — one that I have to often rule out due to inconvenience. In addition to plastic bags, electronics and yard waste are other challenging families of items that are difficult to recycle. Luckily, for Columbus residents there is another option located on Morse Road, and best of all, it's free! From old computers to cellphones, the R2 certified
Ohio Drop Off
takes any old electronic equipment. Take note: Ohio Drop Off does not take any light bulbs and charges $1/inch for television drop off. While many of us may have our appreciations and frustrations for our local recycling program, our curbside programs aim to offer convenient, green habits to our day-to-day. No curbside program is perfect, so let your opinions be heard and encourage your municipality to continue to step up its curbside game.