Most states do not require used license plates to be turned back in. So, instead of tossing that plate into the trash, why not be inspired by one of the 10 repurposed license plate ideas below?
1. Clipboards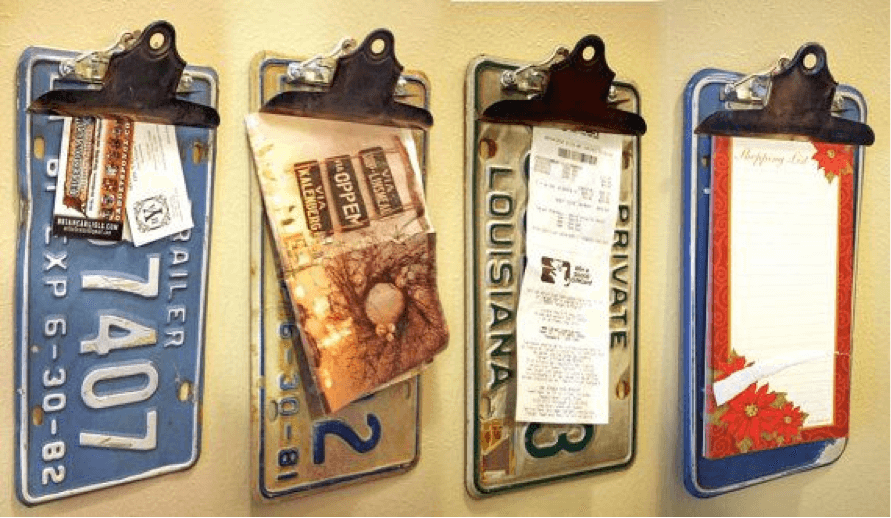 The clipboards above are a unique example of repurposed license plates. Whether your tastes are retro, hipster or kitsch, you can't go wrong here. They could be an easy décor upgrade in the kitchen, or be used in the home office to hold receipts, to-do lists or business cards.
2. Vases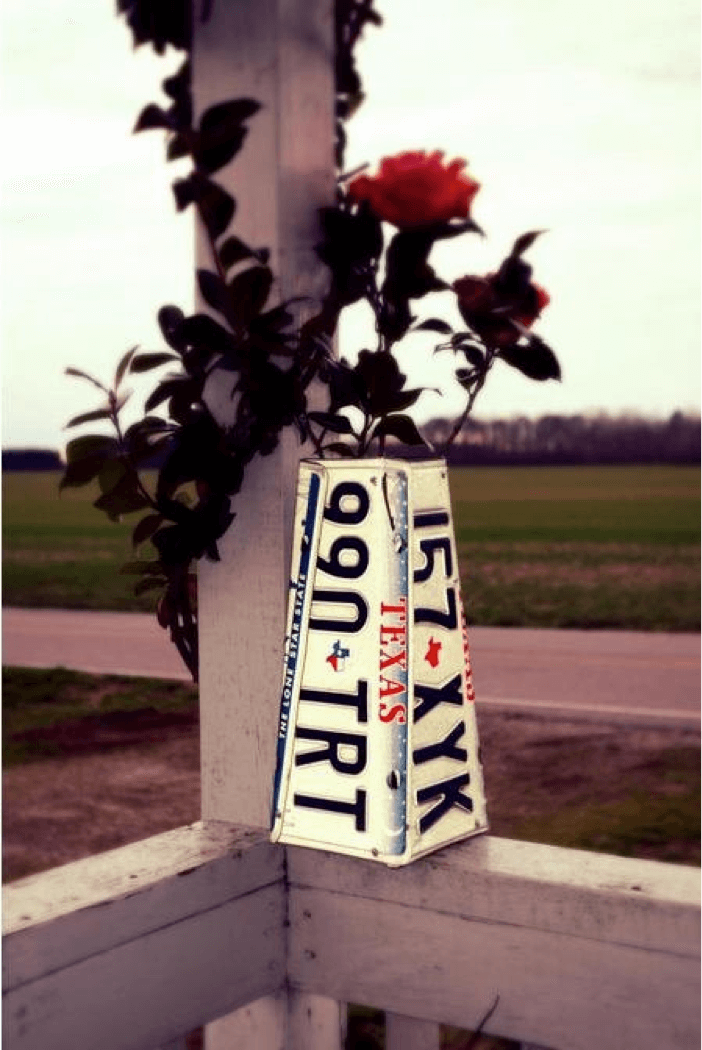 This vase would look good on a kitchen table, on a bookshelf or especially on the front porch. You could fill it with flowers, as in the picture, or try something more created. Wooden spoons would accent this country-chic vase perfectly. Constructed with minimal materials and inspired by origami, it truly is one of a kind.
3. Tree accents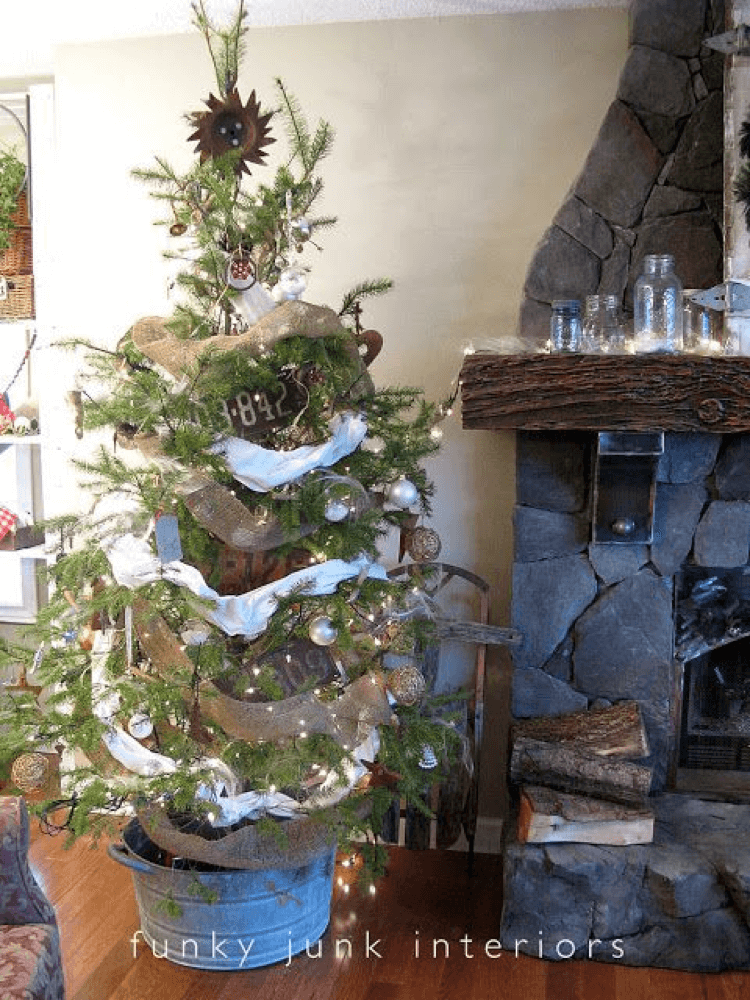 If you are not too handy with metal work, then this is a perfect upcycling idea for you. Maybe you just enjoy the rustic look that only good rust can provide. Either way, this is a simple way to decorate and help save the environment at the same time. You do not have to limit yourself to Christmas, though; try decorating your garage or man cave with your old plates.
4. Toilet paper holder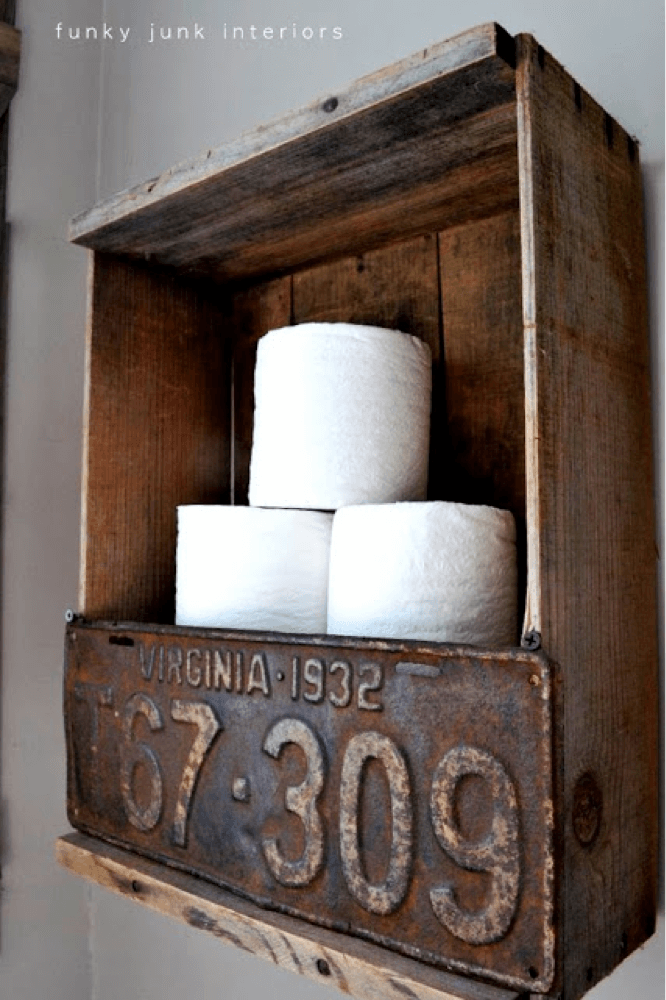 I had to share this wonderful, yet simple creation. With just a couple of screws, an old crate and a rusted license plate, you have a creative way to store things that normally would not be attractive at all. You can let your imagination go wild with this one. Take an old plate, paint it a solid color and use a contrasting tone to match your color scheme. Stencil the side of the crate, or freehand small flowers. You can easily make this project uniquely yours.
5. Nightstand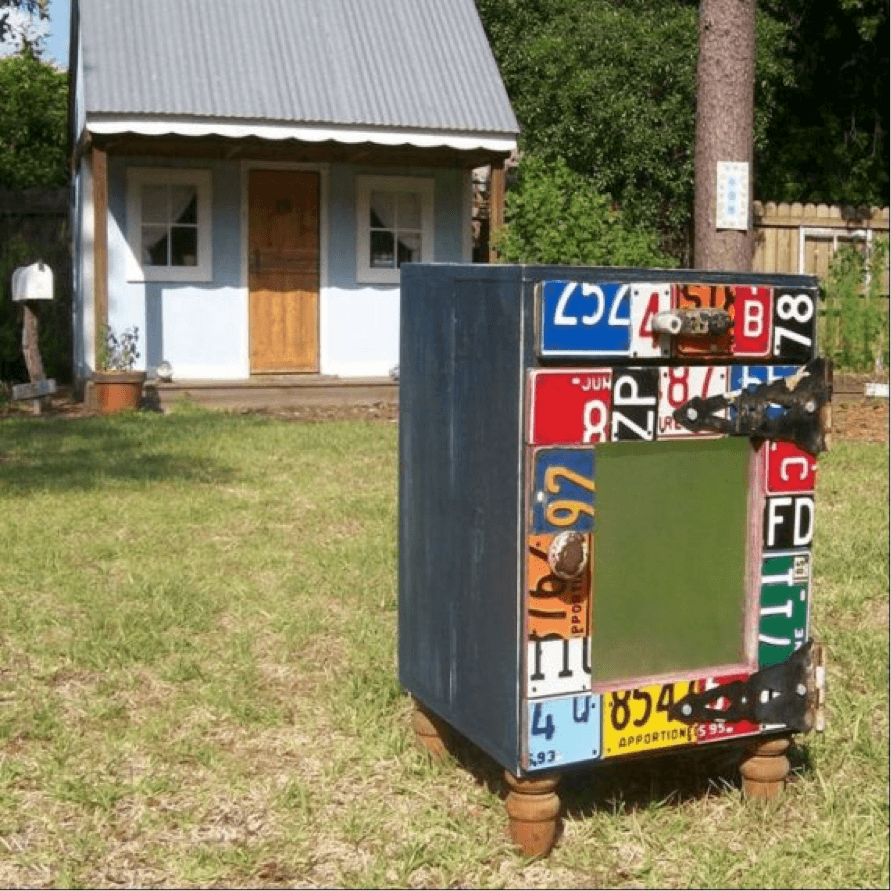 This fun piece would look great just about anywhere. Made with reclaimed and repurposed items, this table is not only functional, but also definitely an attention-getter. What really makes this green is the mix of reused mediums. The reclaimed wood for the table, the upcycled legs, the heavy hinges, the worn-looking handles, the sheet-metal front and the vibrant mix of colors from the different plates create a wonderful piece when combined.
6. Old Glory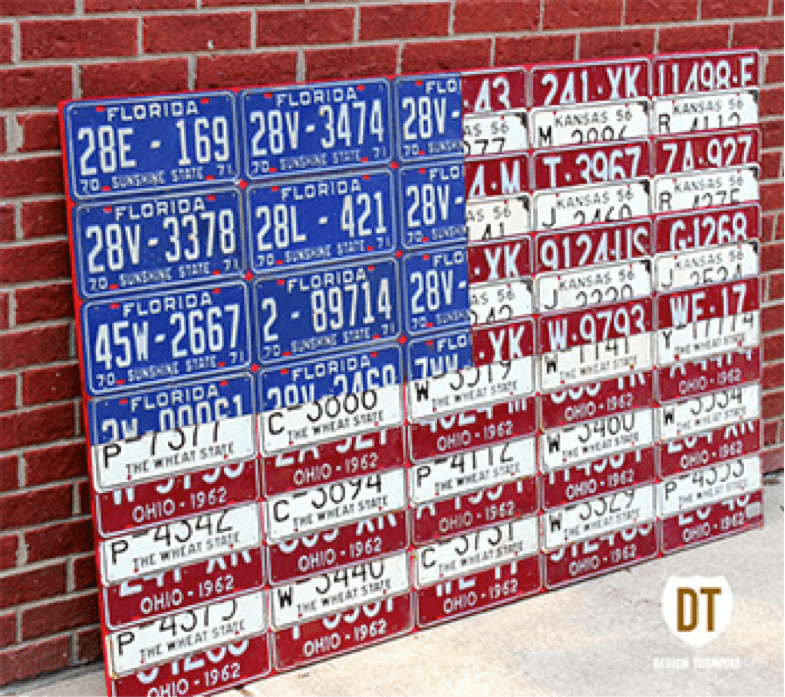 This is something Betsy Ross herself would be proud of! This is a wonderfully patriotic way of repurposing license plates. This would make for a great conversation piece at a party. It would especially look great in a garage, a car dealership or even a restaurant.
7. Vintage plate purse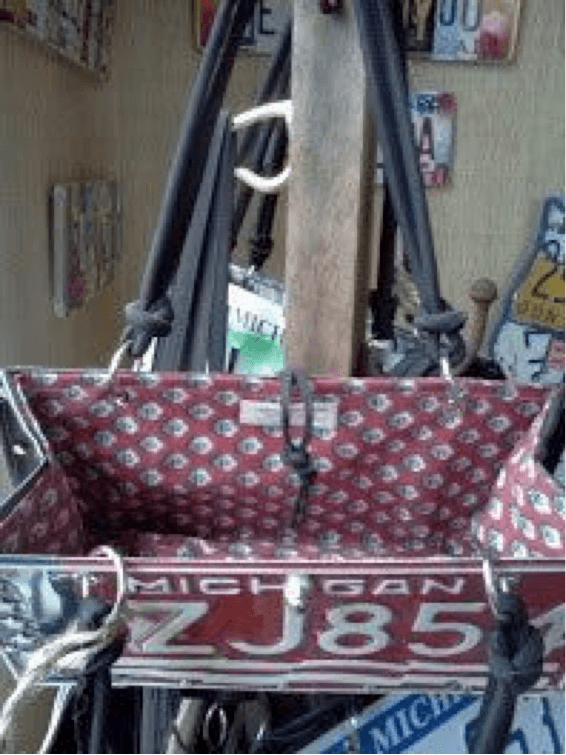 This is an amazing example of how to use license plates not only as decoration, but also as wearable, useable art! The color combinations are endless. This is especially true when you think of all the different state colors and fabric prints that can be matched. It definitely looks extra sturdy and like something that will last for quite a while. Using repurposed materials gives this purse durability, spunk and style.
8. Dustpan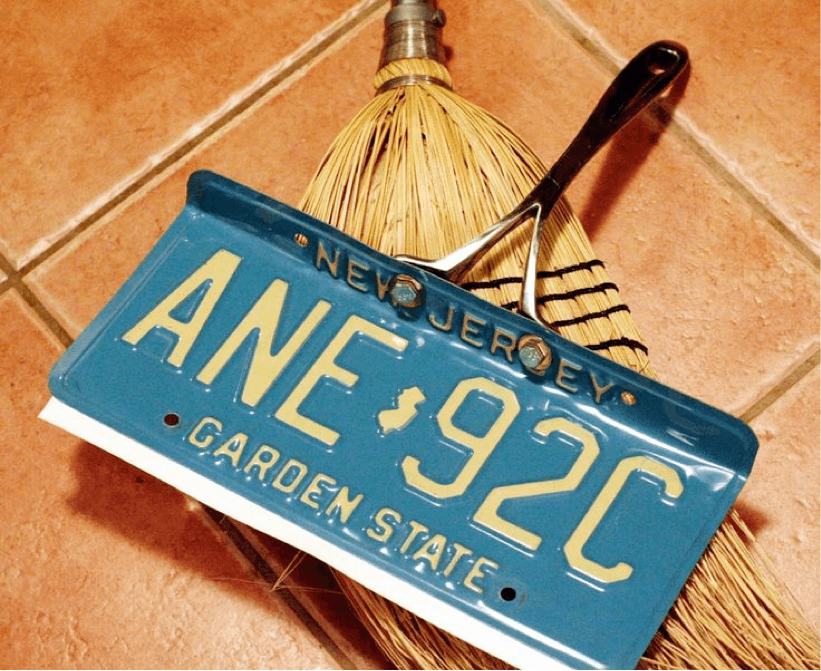 With only a handful of materials, you can repurpose your old plate into a functional, funky dustpan. This idea will now not only help keep your floors clean, but it will also look great hanging in your kitchen or utility room when the cleanup is finished. This handle is from an old Teflon pan. However, the handle could be painted or bejeweled, and truly made to reflect the uniqueness of your space.
9. Magazine rack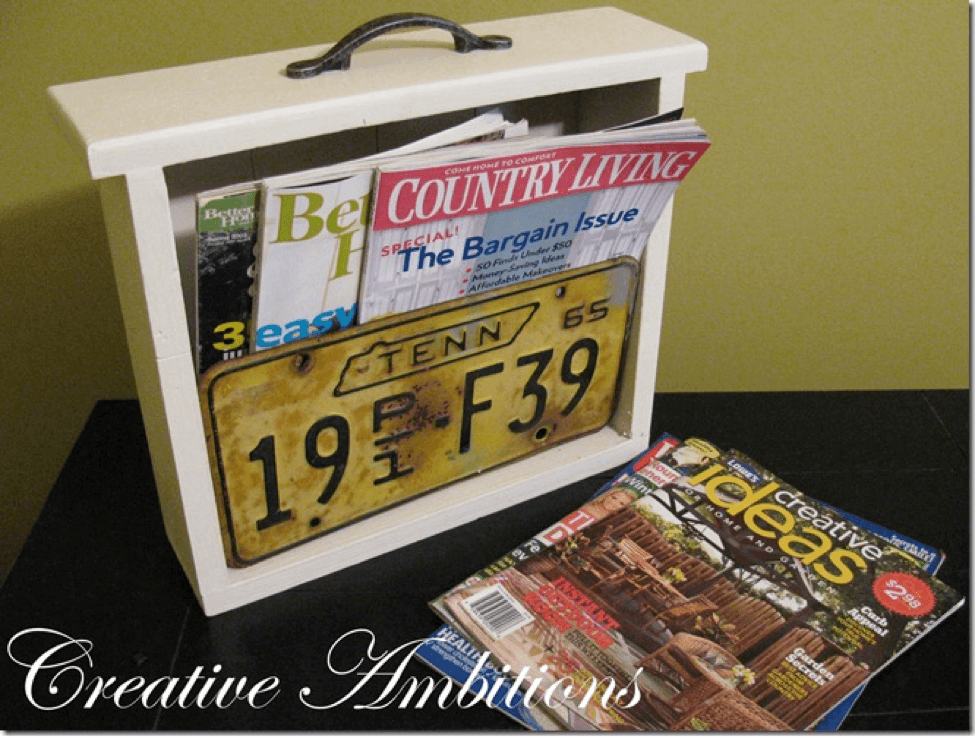 Sometimes furniture gets broken, or we simply cannot stand to look at it anymore. Kendra at Creative Ambitions says her old plate fit snugly into a castaside drawer, but if it had not, she would have added a strip of wood to the bottom and nailed the plate onto that. As it sits, it is sturdy enough to hold her heaviest magazines comfortably and securely. For something unique and fun, why not use a state plate that coordinates with your color scheme? A trip to your local flea market can help unearth lots of unexpected treasures.
10. Inspirational art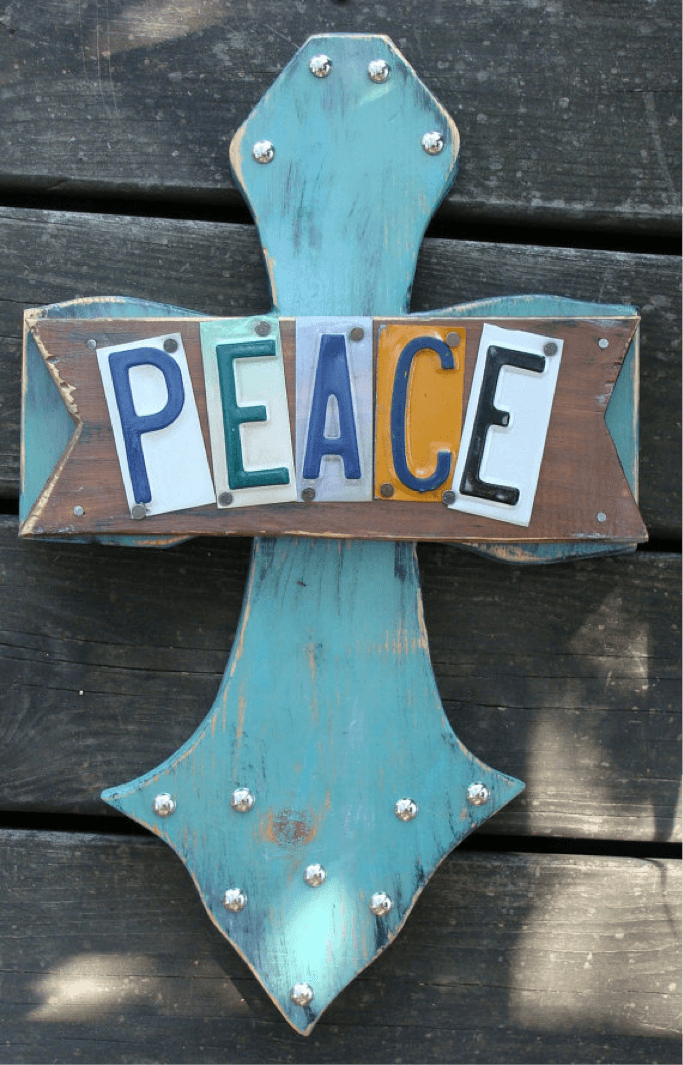 The creative use of license plate pieces in this wooden art piece is truly eye catching. This distinctive piece is a mix of several mediums, including pine wood, paint, hand-cut license plate letters and decorative tacks, which come together to make something truly charming and inspiring. The possibilities are endless as to the color and word combinations. So, before you toss that old nightstand to the curb, have a look at the ideas from our site and be inspired to create something truly wonderful.
All images used are copyrighted and used with permission of the photographers/artists.