In the repurposing and upcycling world, using wine corks takes your project up a notch on the creative ladder. Maybe that's because corks tend to make you appear more worldly and sophisticated, or perhaps it's the effort involved in saving up all those corks. If you have been saving for a while, here are some projects that are worth dipping into your cork stash.
1. Bulletin board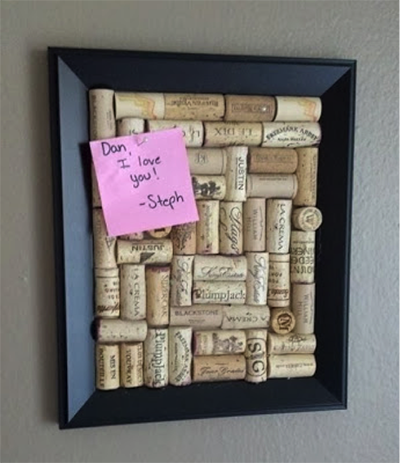 Regardless of the size, wine-cork bulletin boards are very useful. While the above example utilizes a small picture frame, you could choose to go with a rustic look and use no frame at all, or for a larger area, try an old window frame. Just think, at the end of the week you can leave yourself a note to pick up more wine! After all, you'll need to replenish your cork stash for the other great craft ideas below.
2. Garland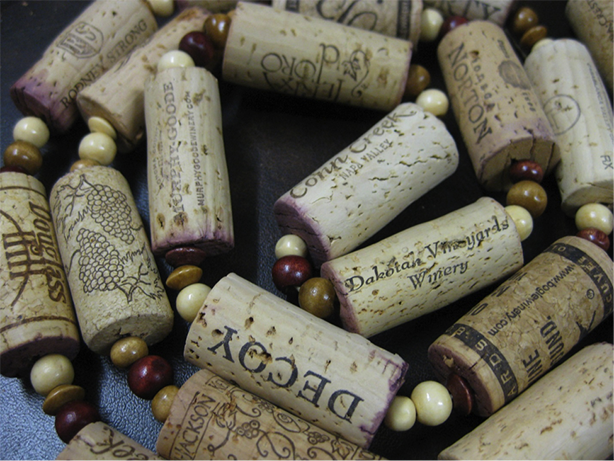 Using twine, beads and corks, you can create a classy garland that would not have to be relegated for the Christmas season alone. String it up across entryways for parties, or artfully drape it around your kitchen. You can make garlands of any length and you only need 35 to 40 corks for an 8-foot garland. So, have a fun gathering with some wine and invite some friends over for a crafting party!
3. Necklace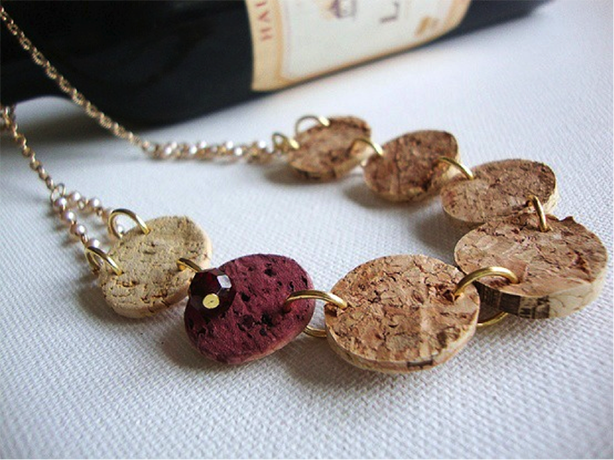 This project stands out because while there are a lot of wine-cork crafts, there are not many of the jewelry variety. The simple design could also make a great bracelet, and could even be made from a single cork. Why not make this as a gift for a wine-loving friend? Nothing says "I love you" better than drinking a bottle in one's honor. You may want to leave some time in between finishing the bottle and when you cut the cork — sharp objects and wine sometimes are not the best of combinations.
4. Cork-topped dresser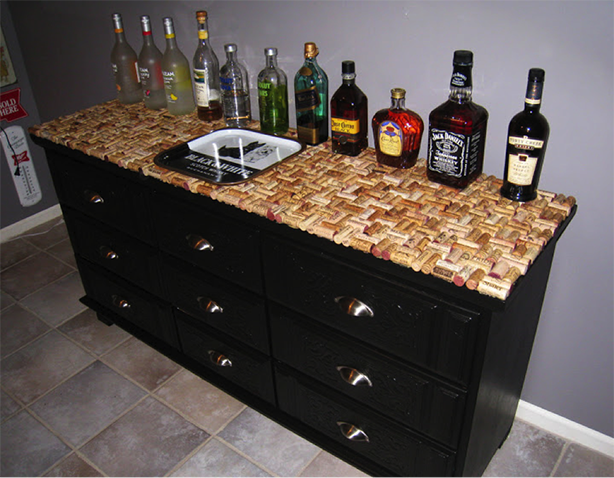 Looking to add a bar to your game room or den? Why not use wine corks to help accent an old dresser to fit in with the motif? This will create plenty of space for bar towels, glasses, your favorite drinks and all the tools needed to be a master mixologist. This is a great way to not only repurpose your corks, but to also use that piece of furniture that has been gathering dust.
5. Napkin rings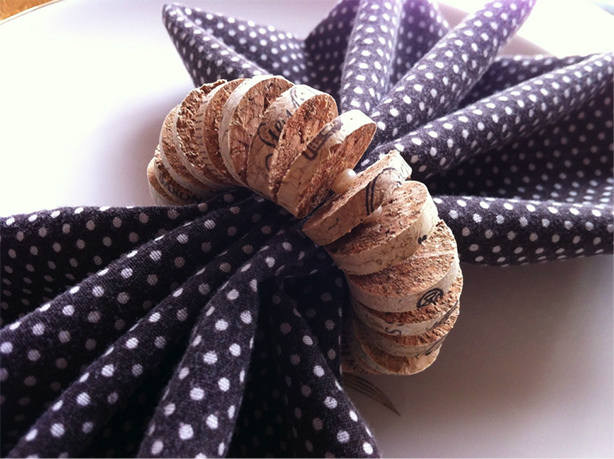 You've been planning the dinner party for weeks. You know that the wines you have picked out for the appetizer, the entrée and the dessert all complement one another perfectly. Afterwards, instead of tossing the corks, use them for some unique napkin rings for your next soirée. Another idea: You can try colored beads and dye some of your corks to make a pattern or to match your décor. Either way, this is a simple and fun DIY project.
After a long day and a soak in the tub, imagine how good your feet will feel when getting a massage from your cork bathmat while drying off. Made with shelf liner, hot glue and 175 corks, this mat can be customized to fit any sized bathroom. Its neutral nature allows it to blend with practically any color scheme. Besides, isn't it almost decadent to relax with a good glass of wine in a bubble bath? Your mat agrees, too.
7. Cork wreath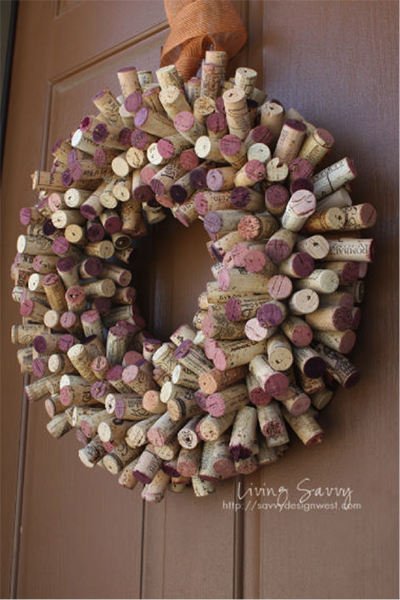 There are aisles dedicated to front-door decorations alone at your local craft store, but many can cost a pretty penny. This wreath was made from a foam wreath form, toothpicks and saved corks. Other than the recycled corks, the actual cost of the wreath comes in at under $10. Around Christmas it can be decorated with a removable seasonal bow. You'll possibly elect to let it stand as a testament to your neighbors that you have no need for glittered tulle on your door; that money is better spent on a wonderful bottle of wine.
8. Bottle lantern with cork base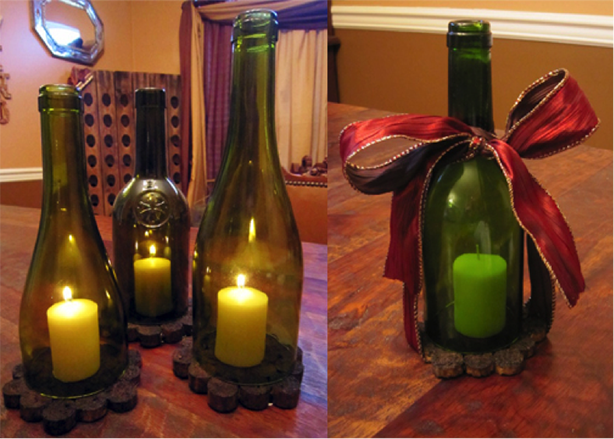 These lanterns take wine cork crafts to the next level. Embrace your inner Martha Stewart and not only repurpose the corks, but also the bottles. As you can see, having two or three on your table makes for an elegant centerpiece. It will certainly become a talking point among guests in your home.
9. Dartboard cabinet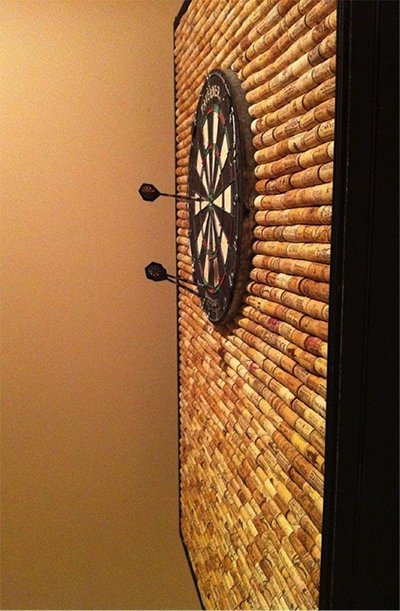 This is one of the most stylish and useful repurposings of wine corks I have seen yet. Aside from being practical, your walls will thank you, as it just looks
cool
. It would make an excellent addition to your game room or man cave, even matching the dresser you turned into a bar perfectly. The corks can be dyed or left their natural color. You can have fun with this by playing around with patterns and colors. This is an heirloom piece that you pass on to prove to your grandchildren that you were, believe it or not, once very cool.
10. Magnets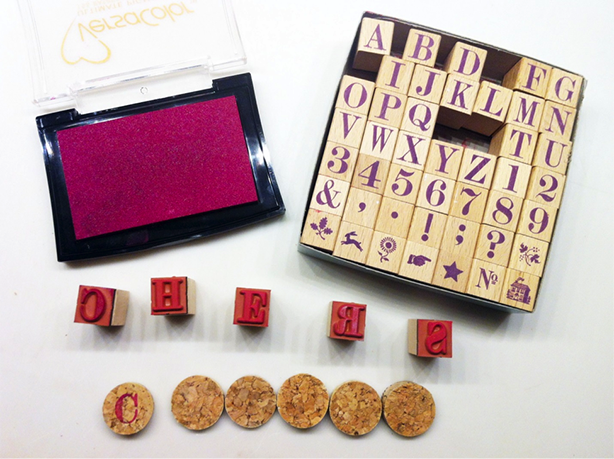 All images used are copyrighted and used with permission of the photographers/artists.