Most women own multiple bottles of nail polish. Some are bought to match a certain outfit, some on a whim. Most bottles are never fully used because the owner gets tired of the color or finds another she likes better. Instead of letting those bottles go to waste, here are some great ways to repurpose them into something more.
1. Bobby pins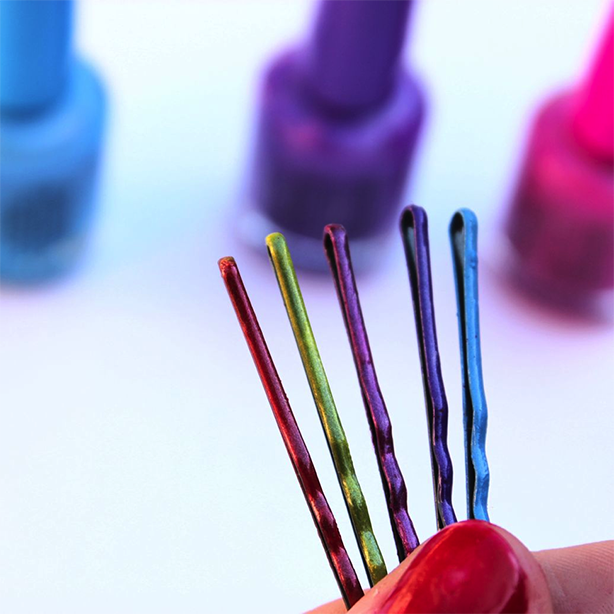 These cute bobby pins are really simple to paint. Simply place the pins around the edge of some cardstock, and paint. Let your imagination flow and see what colors you can create, or even make a pattern on some. After they are dry, they can be utilized as normal. Use them to add some color to your little girl's hairstyle, or give some edge to yours.
2. Marbled coffee mug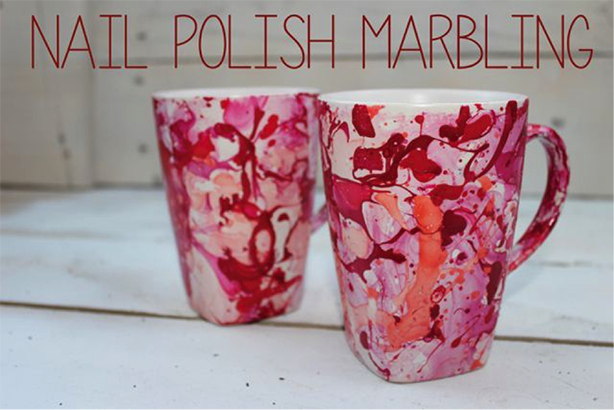 Marbling can take your ordinary coffee mug and turn it into a work of art! You can create this look on almost anything using a simple process that involves just water and nail polish. Your color combinations are only as limited as the variety of nail polish colors you have available today! Create something unique, just like you. With sealant and a little bit of baking, you can marble an entire set of dinnerware. Give it a try, the method is much easier than you might think!
3. Marbleized eggs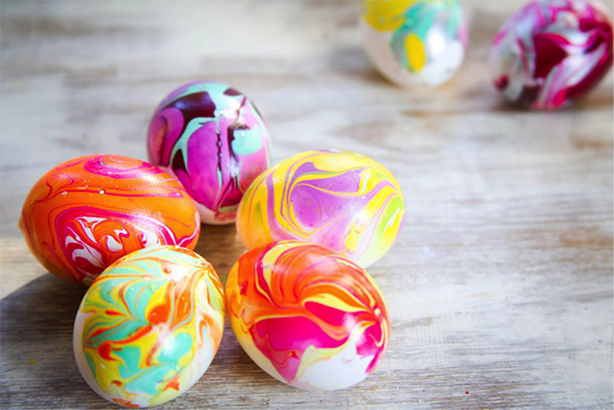 Marbleizing works great on eggs, too! You can ensure that your eggs are the most psychedelic ones on the block by using room-temperature water, plastic cups and all the nail polish you can get your hands on. When done, simply use nail polish remover to remove the polish from your fingers. Just like that, you have gorgeous eggs that even Janis Joplin would love.
4. Marbling candles, vases and paper
While we are on the subject of marbling with nail polish, I wanted to show you all the different ways you can use this process to kick your decorations up a notch! Megan from
Rappsody in Rooms
has an excellent step-by-step tutorial with pictures on her site. Gather all objects you want to marbleize into one area. For the actual painting, you will only need nail polish, an old pencil and an aluminum pan to do the mixing in.
5. Change jewelry color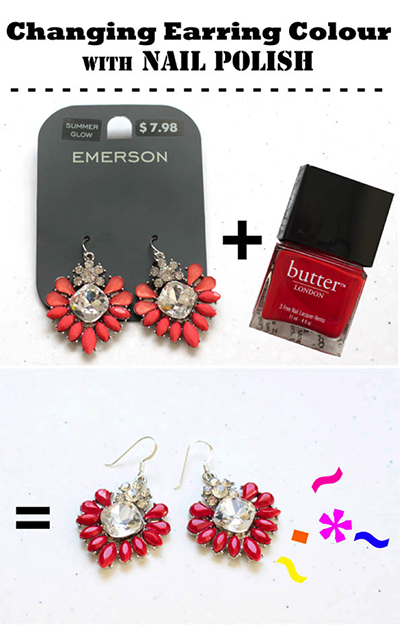 Sometimes your jewelry just doesn't quite match. Using your nail polish stash, you can change that pretty quickly. Instead of spending money on a new piece of jewelry that only matches one outfit, give this a go instead! Change the entire look of your jewelry by painting pieces to coordinate with what you are wearing. Using non-acetone polish remover and a cotton swab, it's also possible to gently remove the polish and paint it another color later.
6. Preventing rust rings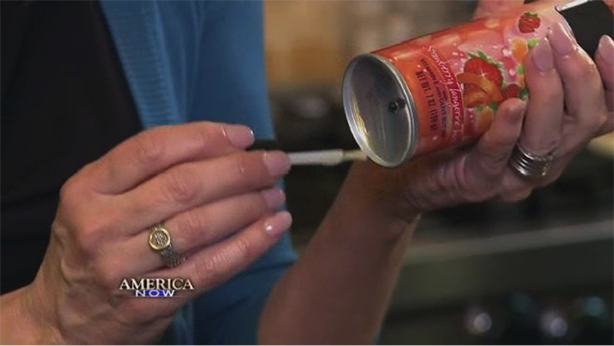 Looking for a way to prevent those rust rings that your shaving gel cans leave on the edge of your bathtub? Grab a bottle of old polish and paint the bottom of all the cans that may come into contact with liquid. The polish acts as a barrier between the water and metal. You will no longer have to scrub the rust off of your porcelain, thus saving you time and a headache.
7. Rainbow mural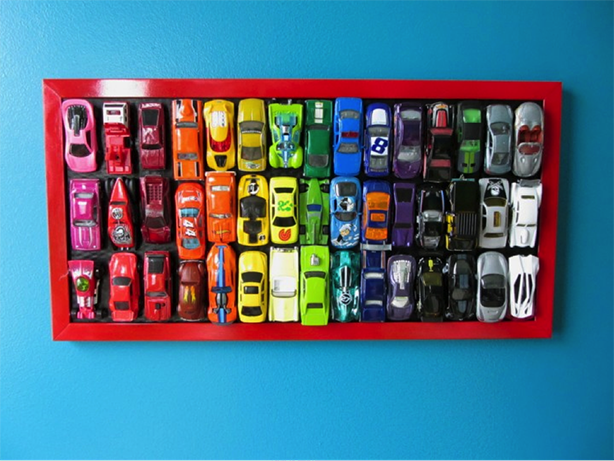 In this great art piece a few of the cars were already painted and decaled prior to purchase. What makes this project interesting is that when the creator was unable to find other cars in the exact shades needed, she simply went digging in her nail polish drawer. This idea is helpful with any rainbow-colored project. The only issue is trying not to fall back in love with the colors you're using!
8. Drawer knobs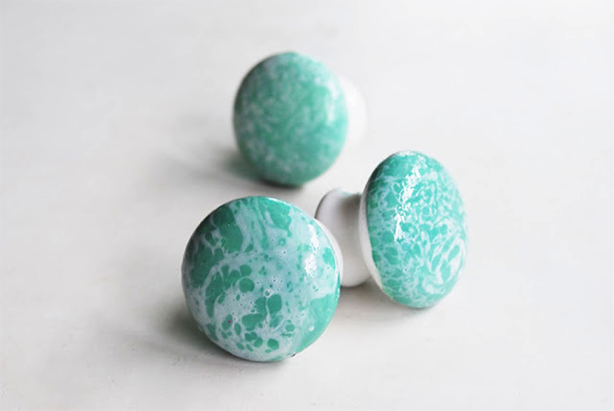 Although the knobs shown are marbleized, with your current nail polish stash you can paint your knobs any color you desire. Make coordinating accents, keeping in mind the rest of the color palette of your house. You can paint the knobs of a dresser, end table, or even your kitchen cabinets and drawers as well. Whether you choose a solid, marble, striped or splattered design is entirely up to you. Just let your small brush be your guide and decorate to your heart's content. The best thing about this is that if you decide you hate it later, the price to change it is negligible.
9. Bulbs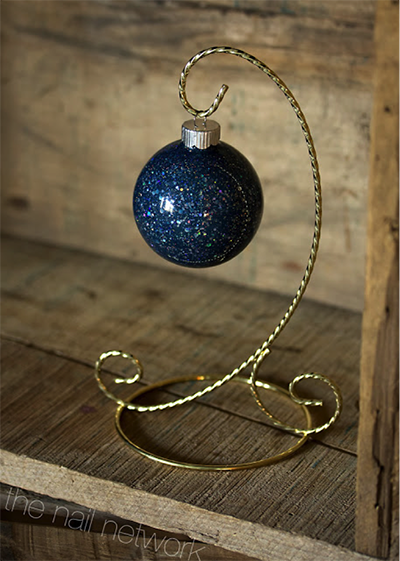 How about creating your own Christmas bulbs? These ornaments are extremely easy to make, and are the least messy. Simply remove the lid from the ornament and pour your polish in. Swish the polish around slowly to avoid bubbles. Once they are fully coated you simply place the bulb upside down in a cup lined with paper towels to catch the excess polish. When dry, reassemble the bulb and you will have a personalized ornament that's better than one purchased in any store.
10. Faux stones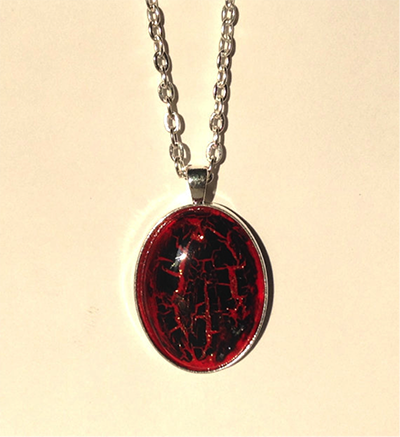 When painted against a reflective surface nail polish can look almost like a precious gem. Add a coat of crackle on top of it and it looks even more unique. This technique can be used on pendants, earrings, rings and actually anything with a flat surface that allows the polish to gather. This is a simple and cheap way to experiment in making your own jewelry. Try creating your own marble effect by adding drops of different colors, then use a toothpick to swirl them together.
11. Painted ladies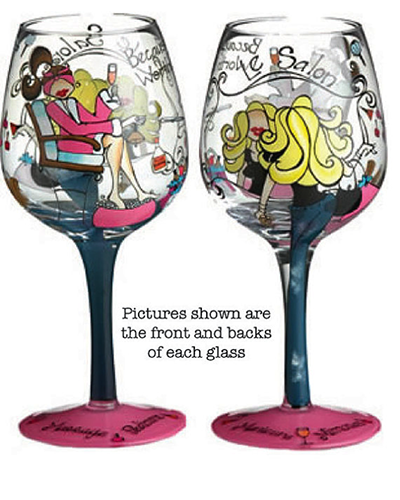 A plain wine glass can become a great conversation or memory piece by simply adding polish! Use a nail art pen to draw your design on the glass, and then fill larger spaces with regular polish. Once done, just bake the design to make it permanent. There is no need to pay someone to make personalized or commemorative beer steins, scotch glasses or decorative plates. With this same concept you can personalize glassware with names, dates, quotes — really anything you'd like.
All images used are copyrighted and used with permission of the photographers/artists.